I got a Peaktech 6225A power supply to power some things, as it seemed like a good deal, going beyond what one might find normally in these types of supplies: more display resolution and supposedly, lower noise. For this price, this supply is a good deal compared to other similar ones on the market. Let's see how it performs.
You can even grab one on Amazon.de or Amazon.frthrough affiliate links which helps me support this website, while offering you the same low price.
Voltage and current set
For the first test, I have checked if the supply is really delivering on that 1mA / 10mV precision, using a calibrated multimeter. The results are below: for the voltage setting, the power supply seems to hold on pretty well from about 0.2V and higher, below which it is not that much control. On the current side, things are similar, current cannot be very accurately set below about 50mA. In both cases, the precision starts to be there from about 1% of the full scale and I think it is perfectly fine for this kind of product.
Burn test
First off, the power consumption test: the power supply burns 4.2W while on and with the output turned OFF. If the output is turned ON and set to 25V and no load, it consumes 5.2W, which I think is decent.
Of course, I had to grab my PSU burner to start stressing this guy out. I set the supply for 30V and 5A load and let it run for half an hour. The fan quickly started.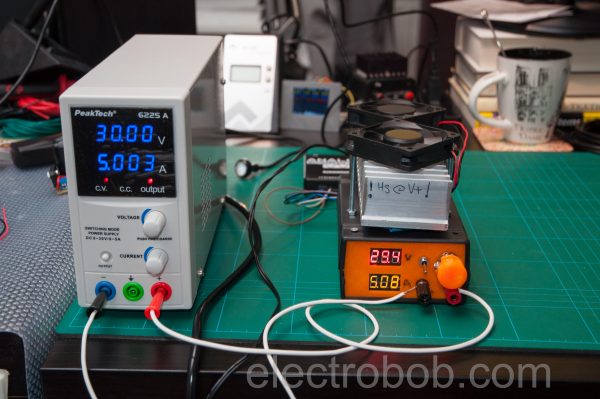 for more detail:  Peaktech 6225A review