Engineers at the University of Bristol have developed a three terminal pico-power chip that can cut standby drain in sensor nodes – even compared with today's low-power microcontrollers.
It does this by replacing the low duty-cycle sleep-wake-sleep pattern used on MCU-based sensor monitors, with 'off'. A voltage detector powered by the sensor – there is no other power source –  starts the processor when the sensor produces a voltage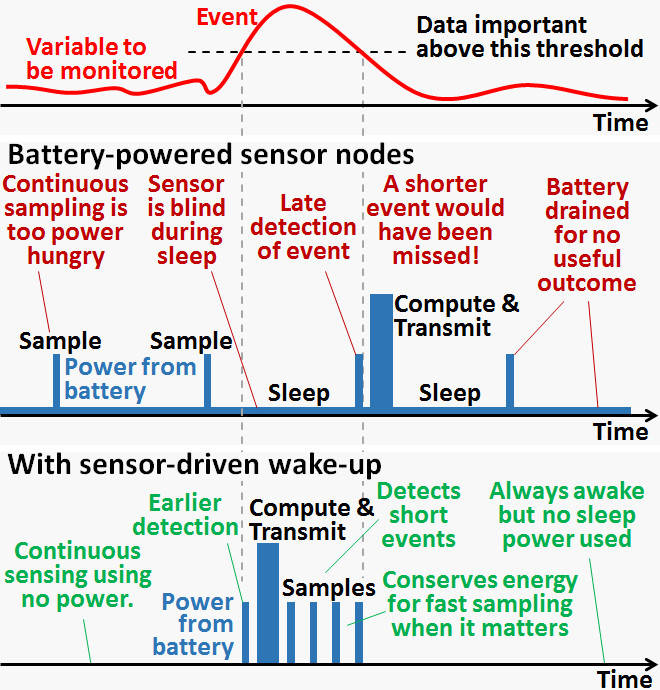 At 5pA (20°C 1V), power draw from the sensor through the input/supply pin is so low that the chip can directly interface with high-impedance sensors such as antennas, piezo-electric accelerometers, or photodiodes. With so little current required, the chip does not collapse the sensor voltage.
"It will work from five infra-red diodes in series, powered from a TV remote control 5m away, or an un-powered accelerometer", Bristol engineer Bernard Stark told Electronics Weekly.
Called UB20M, the only power it draws from the system is 100pA(max) leakage through its open drain output transistor. Input threshold is set at 0.6V.
Once the sensor presents greater than 0.6V to the input, the output FET turns on (RDSon~800Ω), and its low resistance can either be used to turn on a p-FET to power up a microcontroller, or can wake a microcontroller from sleep.
for more detail:  INCREASING BATTERY LIFE WITH UB20M VOLTAGE DETECTOR