Neousys Technology, the embedded computing platforms manufacturer, has announced plans to launch an ultra-compact, rugged fanless in-vehicle computer called the POC-551VTC. The new computer was designed as an upgrade to the POC-500 embedded computer which the company released a while back and it comes with several I/O ports to serve applications around wireless communication, mobile Surveillance, in-vehicle entertainment, and fleet management to mention a few.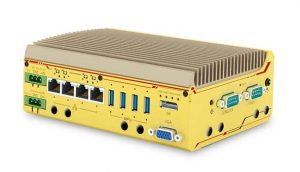 Featuring the same AMD's Ryzen Embedded V1000 family of x86-based SoC used in the POC-500 with the AMD Ryzen™ Embedded V1605B processor, the POC-551VTC combines two of AMD's strongest chips, the Zen x86 core architecture with Vega GPU into a small BGA package. Leveraging on 4-cores and 8-threads, POC-551VTC delivers the equivalent processing power of an Intel 6th Gen. Core i7 U-series, coupled with the unprecedented 3.6 TFLOPS in FP16, delivered by the Radeon Vega GPU.
Designed with an understanding of the connected nature which cars are now attaining, the POC-551VTC comes with three full-size mini-PCIe sockets and one M.2 B key with an internal SIM socket for 3G/4G, GPS or WiFi module installation. To ensure seamless connections with little or no dead zones, the device also comes with expansion sockets that allow users to connect to multiple operators, and facilitate a seamless switch from one operator to another.
Four in-vehicle connections and usage, the POC-551VTC comes with; a CAN 2.0 port, four USB 3.1 Gen1 ports, four COM ports, and 4-CH isolated D I/O for data communication between different types of devices. It also comes with 4(four) 802.3at PoE+ ports which are capable of supplying up to 25W of power to connected devices like IP cameras. All ports on the POC-551VTC come with a screw-lock mechanism to ensure cable connections are secure.
All these features are packed into a, quite small 64 x 176 x 116 mm (2.5″ x 6.9″ x 4.6″) form factor, with an enclosure built with Neousys' proven thermal design. The ruggedized nature of the POC-551VTC ensures its ability to operate at a temperature between -40℃ to 70℃,, and support a wide range input voltage (8~35V DC) with a built-in ignition control, which protects the system with gentle shutdowns.
Read more: NEOUSYS TECHNOLOGY LAUNCHES THE POC-551VTC – AN AMD RYZEN PC FOR TRANSPORTATION