Murata Power Solutions DMR35 Digital Panel Meters perform precision DC current or voltage measurements and feature a highly visible, 3½-digit display with a fast-acting 21-segment bar graph.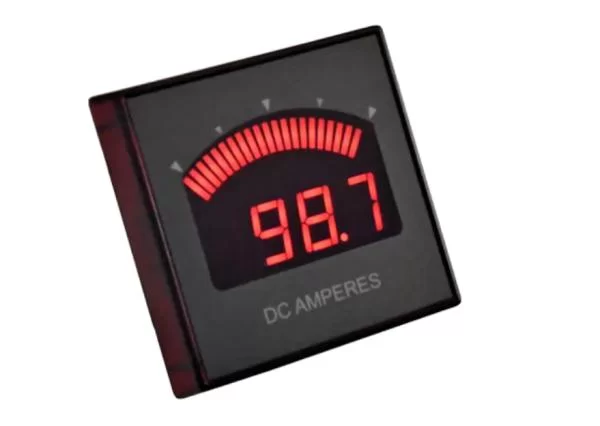 This graph provides a helpful indication of quickly changing measured values. Rear-accessible DIP switches allow the selection of measurement range and display brightness. These meters are powered via an external 9VDC to 32VDC power supply and typically require only 37mA when operated at 12V. The measurement inputs offer +/-48V of the common-mode input range, simplifying use in a range of applications.
Murata Power Solutions DMR35 Digital Panel Meters have a rugged polycarbonate housing that is mountable in a round hole using the supplied screws. These units are designed as a mechanical drop-in replacement for many commonly available analog movement meters. The DMR35 series is ideal for use in laboratory instrumentation, factory automation, and other applications requiring precise DC current or voltage monitoring.
Features
Common

Bright, easily readable LED display
Up to 3½ digit measurements
Bar-graph display scale
0.8% measurement accuracy
Selectable current measurement ranges
Unipolar / bipolar measurement options
User-adjustable display brightness
Mechanical drop-in replacement for common analog-movement meters
Operates from 9VDC to 32VDC
Low current consumption, 37mA typical at 12VDC
Two-year warranty
DMR35-DCA

Precision internal shunt resistor

DMR35-DCA3

Works with industry-standard external 50mV-output shunt resistors

DMR35-DCV
DMR35-DCxA

Low-burden voltage internal shunt resistors
Read more: MURATA POWER SOLUTIONS DMR35 DIGITAL PANEL METERS