Maxim designs tiny 3D audio amplifier
Description
The MAX98314 mono 3.2W Class D amplifier provides Class AB audio performance with Class D efficiency. This device offers five selectable gain settings (0dB, 3dB, 6dB, 9dB, and 12dB) set by a single gain-select input (GAIN).
Active emissions limiting (AEL) edge rate and overshoot control circuitry and a filterless spread-spectrum modulation (SSM) scheme greatly reduce EMI and eliminate the need for output filtering found in traditional Class D devices.
The IC's low 0.95mA at 3.7V, 1.2mA at 5.0V quiescent current extends battery life in portable applications.
Highly linear, integrated input coupling capacitors (CIN) reduce solution size and provide excellent THD+N, PSRR, and CMRR performance at low frequencies vs. standard Class D amplifiers using external input capacitors.
The IC is available in a small 9-bump, 0.3mm pitch WLP (1.0mm x 1.0mm x 0.80mm) package and is specified over the -40°C to +85°C extended temperature range.
Key Features
Integrated Input Coupling Capacitors with Excellent Linearity

fC = 100Hz (6dB)
fC = 200Hz (12dB)

Low Quiescent Current

0.95mA at 3.7V
1.2mA at 5.0V

Delivers High Output Power at 10% THD+N

3.2W into 4Ω, VPVDD = 5V
960mW into 8Ω, VPVDD = 3.7V

Ultra-Low Noise: 19µV
Eliminates Output Filtering Requirement

Spread Spectrum and Active Emissions Limiting

Click-and-Pop Suppression
Thermal and Overcurrent Protection
Low Current Shutdown Mode
Small, Space-Saving Package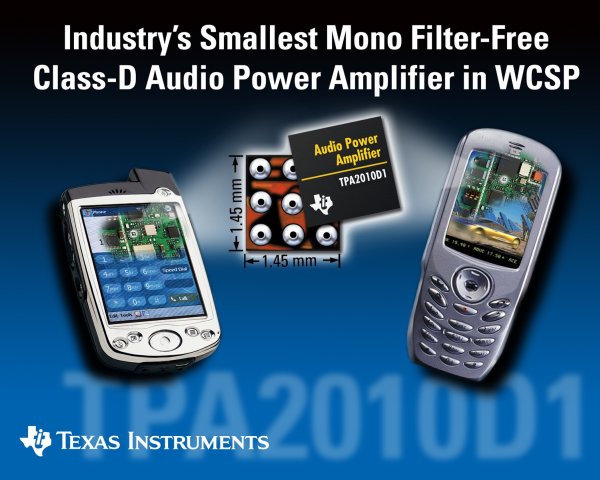 Maxim Integrated Products has used 3-dimensional (3D) chip assembly to offer its first mono, 3.2W, Class D amplifier with integrated input coupling capacitors.
Even with the integrated input capacitors, the MAX98314 fits is a 1mm x 1mm package size.
"Maxim has taken advantage of its truly innovative 3D process, opening the doors to countless possibilities for future solutions that enhance mobile devices," said Kristy Lypen, director of business management for Maxim.
The integrated capacitors are designed to provide better voltage-independence and matching than standard Class D amplifiers with external input capacitors.
"With excellent linearity, this Class D amplifier improves the system power-supply rejection ratio (PSRR) and enhances performance at low frequencies," said the supplier.
Maxim claimed this 3.2W amplifier provides "Class AB audio performance with Class D efficiency".
For more read: Maxim designs tiny 3D audio amplifier
Project Ratings:
Related posts
Leave a Comment