Infineon adds to lighting control IC range
Infineon has added to its lighting control ICs, with a chip addressing lighting systems in the range of 40W to 300W.
The high-voltage resonant controller IC ICL5101, is for indoor and outdoor LED lighting, high-bay and low-bay lighting, street lighting, parking garage and canopy lighting, office lighting, retail and shop lighting. Since the total cost of ownership is an important aspect for industrial lighting, customers prefer to use resonant topologies supported by the new ICL5101 due to its high efficiency up to 95%.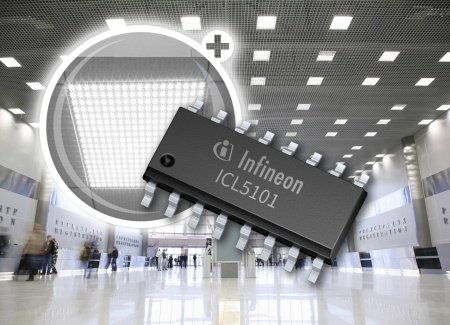 The ICL5101 allows for advanced LED driver designs with approximately 25% less components compared to similar solutions which require separate PFC and resonant ICs.
The ICL5101 integrates the half-bridge and the PFC gate drivers. All operation parameters of the IC are adjustable by simple resistors, enabling cost effective but reliable and stable parameter-settings.The chip supports outdoor use by an extended junction temperature ranging from -40°C to +125°C.
The LED controller ICL5101 is designed to control resonant converter topologies such as LLC. The integrated digital PFC stage operates both in critical conduction mode (CrCM) and discontinuous conduction mode (DCM), which allows an extremely stable regulation in low load conditions, occurring for e.g. when the device is dimmed. The LED lighting can be dimmed down over an extremely wide range from 100% to 0.1% of its nominal load. State of the art dimming today typically ranges from 100% to 5%. In addition, the ICL5101 enables an ultra-fast time to light – under any conditions – with less than 200ms.
For more detail: Infineon adds to lighting control IC range
Project Ratings:
Related posts
Leave a Comment