Edge computing has many great advantages. When you take some resource-heavy work from servers and let your less capable but still slightly powerful microcontrollers, you end up freeing server resources. Also, depending on what you are doing, you can get away with not using a server at all! There is a lot you can do these days, when it comes to AI and machine learning on the edge. A great example of it lies on the Himax WE-I Plus EVB development board, which we will take a look today.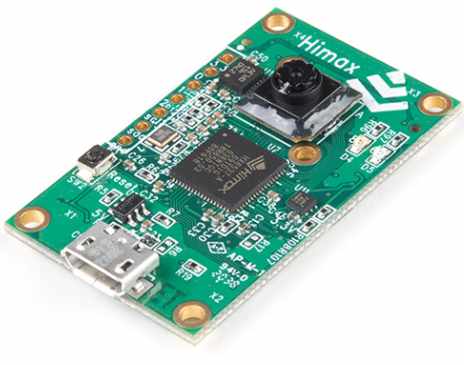 The Himax We-I Plus EVB is a small, yet powerful development board for AI and computer vision applications. Being developed by Sparkfun, it makes use of Google Tensorflow Lite for Microcontrollers framework and Synopsys embARC MLI library, it contains all the necessary ingredients for your computer vision projects. It makes use of a WE-I Plus ASIC with an embedded DSP developed by Synopsys running at 400 MHz and some beefy 2 MB internal SRAM and Flash to deploy your neural network models. Regarding peripherals, you have at your disposal a CMOS image sensor capable of delivering 640 x 480 pixel images at 60 frames per second, along with a 3-axis accelerometer, and 2 microphone sensors.
Taking a detailed glance at the specs: 
WE-I Plus ASIC (HX6537-A) – ARC 32-bit EM9D DSP with FPU, clocked at 400 MHz
Memories – 2 MB SRAM and 2MB Flash
Himax HM0360 AoS TM ultra-low power CCM – 1 / 6" CMOS sensor, with 640 x 480 pixel resolution at 60 FPS
FTDI USB to SPI / I2C / UART bridge
STM LSM9DS1 3-axis accelerometer
2x microphones (L/R)
2x LED's
Expansion: 1x I2C port, 3x GPIO, power and ground pins
Now, besides the interesting hardware package it proves to be, a means to develop your projects easily and fast is still needed. This is where its integration with Edge Impulse comes in. Being the leading development platform for machine learning on edge devices, based on TinyML (which you can read about below), making this process a lot easier for you. There, you can train models with the datasets collected with your edge device and then deploy them on your device with almost no hassle. It is a very powerful tool, whether if you are taking your first steps in machine learning or an advanced developer, so I recommend you give it a try. It has a free tier, so you have nothing to lose.
Read more: HIMAX WE-I PLUS EVB: COMPUTER VISION AND AI ON THE EDGE