Single-Stage Primary-Side-Regulation PWM Controller for PFC and Phase Cut Dimmable LED Driving
The FL7734 is a highly integrated PWM controller with advanced Primary-Side-Regulation (PSR) technique to minimize components for low power LED lighting solutions. Using the innovative TRUECURRENT technology for tight constant-current control, it enables designs with constant-current (CC) tolerance of less than ±1% in the wide line voltage range to meet stringent LED brightness requirements.
FL7734 can operate with all types of phase cut dimmers. Phase cut dimming is managed smoothly by bleeding current control to achieve excellent dimmer compatibility without flicker.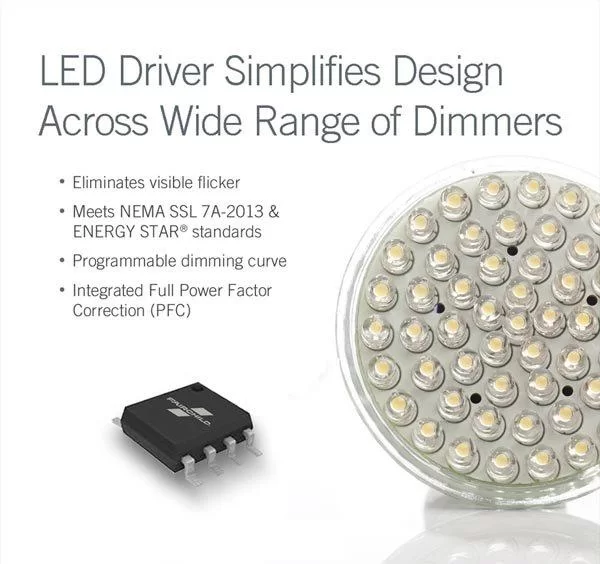 The controller can automatically detect whether there is a dimmer connection. In non dimming mode, the operating mode is set to optimize power factor and THD by enabling linear frequency control and voltage mode based on DCM.
An external high-voltage bleeding circuit is utilized to implement fast startup and high system efficiency. The FL7734 also provides powerful protections, such as LED open / short, sensing resistor shorted, and over-temperature for high system reliability. The FL7734 is available in 16-pin Small-Outline Package (SOP).
Features
Excellent Dimmer Compatibility by Active Dimming Control
Programmable Dimming Curve and Input Current Management
Constant LED Current Regulation in Large Phase Angle Range
Cost-Effective Solution without Input Bulk Capacitor and Feedback Circuitry
Accurate Constant-Current (CC) Control, Independent on Line Voltage, Output Voltage, Magnetizing Inductance Variation
Power Factor Correction (PFC)
Fast Startup utilizing Bleeding Circuit
Open-LED Protection
Short-LED Protection
Sensing Resistor Short Protection
Cycle-by-Cycle Current Limiting
Over-Temperature Protection with Auto Restart
For more detail: Fairchild Simplifies Dimmable LED Lighting Design