Voice Assistants are becoming more widely accepted, devices like Amazon Echo, Sonos On, and Google Home devices are seeing the larger market share. The mounting interest in voice assistants and voice-activated platforms is leading to new ways of communicating, and in theory, creating additional channels to drive revenue.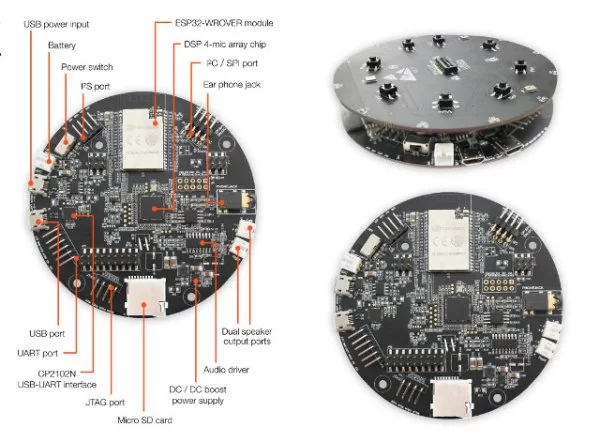 It's estimated that 30% of searches will be done without a screen in the next years, that there will be 21.4 million smart speakers in the US by 2020, and 2019 could put the voice recognition market to a $601 million industry. Amazon is paving the way for the possibility of these predictions with their goal of "Alexa on all Every Devices", and the launch of the Amazon Alexa Voice development kit that will allow manufacturers easily integrate Alexa into their products. The voice-based platform could be the next stealth thing, after all, it's easier to voice out your thoughts than type them out.
The Shanghai-based Chinese manufacturer Espressif Systems known for their famous ESP8266, is releasing its own voice development kit, the ESP32 LyraTD MSI HDK (Hardware Development Kit" also known as "Audio Mic HDK", was recently announced on Twitter with this question – "does anyone need something like that?"
The Audio Mic HDK is powered by the ESP32, comes embedded with Wi-Fi and Bluetooth 4.1 LE and as a four-microphone array with dual speaker output ports. It provides support for micro SD Card which can be used for storing audio files, and provides support for – UART, SPI, I2C, I2S, and JTAG through its breakout expansion pins.
Targeting applications in the areas of wireless audio, voice assistant, and home appliances. The kit supports all major cloud voice vendors such as – Amazon Alexa, Google Assistant, and Baidu DuerOS. It supports soft decoder and keyword recognition on the ESP32 processor.
The following are the Espressif Audio Mic HDK specifications:
Wireless Module – ESP32-WROVER module
Connectivity –

802.11 b/g/n WiFi
Bluetooth 4.1 LE

DSP – 4-mic array chip
Storage – micro SD card
Audio –

Audio driver chip
Earphone jack
Dual speaker output ports
4x microphone array with up to 3-meter sensitivity while playing music
Read more: Espressif Systems is bringing voice enabled kit to makers and developers