Edge devices have found their way into smart surveillance, autonomous driving, robotics, and medical imaging. With a growing requirement for making decisions on the edge and data privacy concerns, there is a requirement for intelligent devices capable of making real-time decisions. The Edge AI devices are expected to run complex neural networks and deep learning algorithms while maintaining low latency, power efficiency, and accuracy.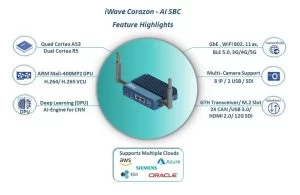 iWave's Corazon-AI built on Xilinx Zynq® UltraScale+™ MPSoC is designed to overcome these challenges. The rugged and innovative FPGA-based AI Inference engine with a Pico -ITX form factor (100mm x 72mm) is coupled with multiple connectivity options while supporting multiple cameras.
The EdgeAI solution provides interfaces to connect 8 IP cameras, multiple USB cameras, and SDI Camera. These options provide the ability to capture multi-angle high-resolution video frames that are proactively processed by the in-built AI Inference engine. The solution also supports a wide range of high-speed connectivity options such as Dual Gigabit Ethernet, 802.11 ac Wi-Fi, BT 5.0, 3G/4G/5G support via an M.2 expansion slot, Dual CAN and USB3.0. There is also a provision for extended storage for an MSATA / NVMe SSD via an M.2 expansion slot. The suite of connectivity help customers towards various use cases based on the on-premise architecture and requirement.
The EdgeAI Solution is built around a highly adaptive MPSoC that features a heterogeneous Arm® + FPGA architecture providing customers the advantage of using the processor cores as a regular SoC for high-level management functionalities such as system boot, peripherals management, server communication, while the freely programmable FPGA can be configured to implement AI-specific features or dynamically accelerate functions for real-time AI inference. The Zynq® UltraScale+™ MPSoC is an integrated ARM Mali-400MP2 GPU engine, H.264/H.265 VCU, and other core signal processing, memory, networking and transceiver sub-systems that further enhances the AI deployment efficiency on the edge. The MPSoC also incorporates multiple levels of security, increased safety, and advanced power management, enabling an intelligent Edge AI device.
The Corazon-AI integrated with Xilinx Vitis AI Stack enables faster time to market while reducing complexity. The Xilinx AI Stack includes advanced pre-optimized deep learning models from the mainstream frameworks such as Tensor-flow, Caffe, Darknet, and Computer Vision Libraries. The Xilinx Vitis AI Stack enables developers to accelerate the development flow of AI applications even without in depth-knowledge of FPGA and deep learning. The Stack support C++/python API's which provides the programming flexibility to the developers.
Read more: ENABLING AI ON THE EDGE WITH IWAVE'S CORAZON-AI