The EchoMp3 is a small DIY* Audio player.
Mp3, Wav, Ogg-Vorbis, Wma and Mid formats are supported.
4, 8, 16 GB SDHC cards used as storage.

FAT (FAT16) and FAT32 supported.
Low power

operation with two AA (HR6) 1V2 Ni-Mh batteries.

Power input range is +2.4V … +3.0V

Runs on a PIC18F46K20 at 64 MhZ.
Up to 320 kBps bitrate CBR  and VBR at 44,1 kHz supported.

ID3 v2.3 tags supported.

Full user control (volume, track, pause, skip, directory) with a 5-way micro joystick.
Optional OLED Module 1 with RGB OLED 96×64 pixels.
Real time display of bitrate, sampling rate, elapsed time, songnumber, …

Directory scrolling and file fragmentation support. Directory depth up to 10 accepted.

SDHC (High Capacity) Cards now standard. Here are some compatible cards.

Serial interface control so the player may be used as a playback module.
High quality stereo DAC

with a S/N ratio of typ. 94dB.

THD of max.  0.07%

Sounds way much better than an iPod or Smartphone!



Voice Recording in OGG Vorbis-format will be added later.
* Do It Yourself.
 Schematic & pcb (Eagle 4.11e), hex file available. Player Software Updated on February 12, 2011.
Circuit explanation / Getting started: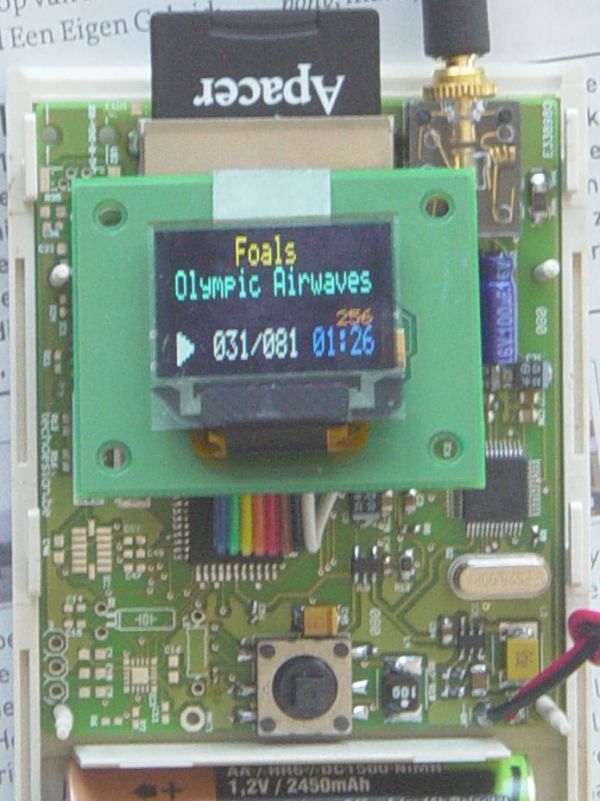 PIC18F46k20

The 18F46k20 offers high speed and low power operation. Well suited for a portable application such as this one.

VS1053

MP3 decoder chip. Enhanced performance compared to the VS1001Kand VS1002 Sounds great! Future enhancements (equalizer and so on) are possible. Thanks to GBUF, no need for large capacitors at the earphone outputs. The chip also has a recording mode!

SDHC

Royalty-free and open source protocol makes this a great memory to work with. Finding a socket was more difficult. Format the card as FAT (FAT16) or FAT32, then copy them (all at once) to the card (with a cardreader.) Directories may be used. Tagging of your MP3 files can be done with Mp3 tag tools (freeware) and Audio Tags Editor (evaluation period.)

OLED

OLED Module 1 with 96×64 pixels RGB OLED, Size: 0.95″

Needs a +14V Vdd, this is generated by a TPS61080

Controls

With the micro joystick, there are 8 user controls available. Two for volume (up & down) , track (left & right) , pause/play (short enter), skip (long enter) and directory scrolling (short enter to go into pause, then up/down to scroll,  enter to go to the selected directory.) Serial interface: volume (

+

&

–

) , track (

b

&

n

) , hold/play (

h

&

p

), repeat one/play all (

r

&

a

), continuous/single play (

c

&

s

), goto tracknumber (ex:

14<ENTER>

)

Volume, repeat and continuous settings are stored and reloaded on reboot.

Power

The MCP1640 DC-DC step-up converter makes it possible to power the whole circuit from only one AA battery. Some larger SDHC cards will not boot with a weak battery though. We have chosen two AA batteries for enhanced stability and endurance. Power input range is +2.4V … +3.0V Do not exceed this!

PCB:

We used as much SMD-parts as possible. The PCB from our shop is a double sided and 100% connection tested PCB with plated-through-hole connections. All holes are drilled already. PCB size = 66,50 x 54.90 mm
---
Schematics: (eagle-files and library can be downloaded below.)
Full resolution image: schematic and pcb (GIF format) Right-click and save as, then open in an image viewer (sch is too large for some browsers.)
Bill of Materials (Parts List)
Important note: The following sections from the schematic are not needed in this particular setup, and are left out on assembly: EE_PROG, USB, RDS TUNER, ACCELERATOR
For more detail: Echo Mp3 DIY Audio player using PIC18F46K20