e-peas AEM10941 Solar Energy Harvesting IC is an integrated Ambient Energy Manager (AEM) that can extract DC power from up to 7-cell solar panels, simultaneously storing energy in a rechargeable element and supplying the system with two independent regulated voltages. The AEM10941 is designed to extend battery lifetime and ultimately eliminate the primary energy storage element in a large range of wireless applications, such as industrial monitoring, geolocation, home automation, health monitoring, and wireless sensor nodes.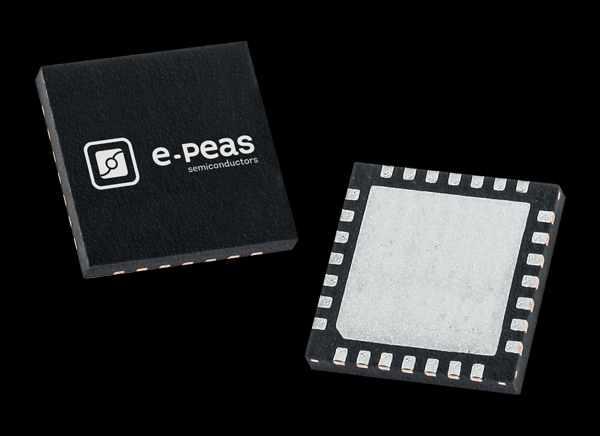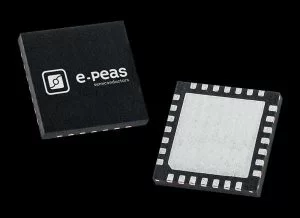 The AEM10941 harvests the available input current up to 110mA. It integrates an ultra-low power boost converter to charge a storage element, such as a Li-ion battery, a thin film battery, a supercapacitor, or a conventional capacitor. The boost converter operates with input voltage in a range from 50mV to 5V. With its unique cold-start circuit, the AEM10941 can start operating with empty storage elements at an input voltage as low as 380mV and input power as low as 3µW.
The low-voltage supply of the AEM10941 can be used to drive a microcontroller at 1.2V or 1.8V. The high-voltage supply may typically drive a radio transceiver at a configurable voltage between 1.8V and 4.1V. Both are driven by highly-efficient LDO (Low Dropout) regulators for low noise and high stability.
Features
Ultra-low-power start-up

Cold start from 380mV input voltage and 3µW input power (typical)

Ultra-low-power boost regulator

Open-circuit voltage sensing for MPPT every 5s
Configurable MPPT with 2-pin programming
Selectable Voc ratios of 70, 75, 85, or 90%
Input voltage operation range from 50mV to 5V
MPPT voltage operation range from 50mV to 5V

Integrated 1.2V/1.8V LDO regulator

Up to 20mA load current
Power gated dynamically by an external control
Selectable output voltage

Integrated 8V to 4.1V LDO regulator

Up to 80mA load current with 300mV drop-out
Power gated dynamically by an external control
Selectable output voltage

Flexible energy storage management

Selectable overcharge and over-discharge protection for any type of rechargeable battery or capacitor
Fast supercapacitor charging
Warns the load when the battery is running low
Warns when output voltage regulators are available

Optional primary battery

Automatically switches to the primary battery when the secondary battery is exhausted

Integrated balun for dual-cell supercapacitor
Small footprint, small BOM

Compact 5mm x 5mm QFN28 package
Only seven passive external components required
Read more: E-PEAS AEM10941 SOLAR ENERGY HARVESTING IC