DIY automation of your existing window blinds. Works with a Z-Wave controller.
You wake up in a dark room and have to use an artificial light before letting the sun in by opening the blinds in the bedroom. You come home from work to a hot house because the sun was warming it all day. Now, you have to adjust the thermostat to cool it down. You have to close the blinds before turning on your TV or computer. It drives you crazy on vacations away from home, wondering if you left any blinds open. At the same time, by having your blinds closed for several days in a row, you are giving a signal to burglars that the house is unoccupied and offers a "window of opportunity."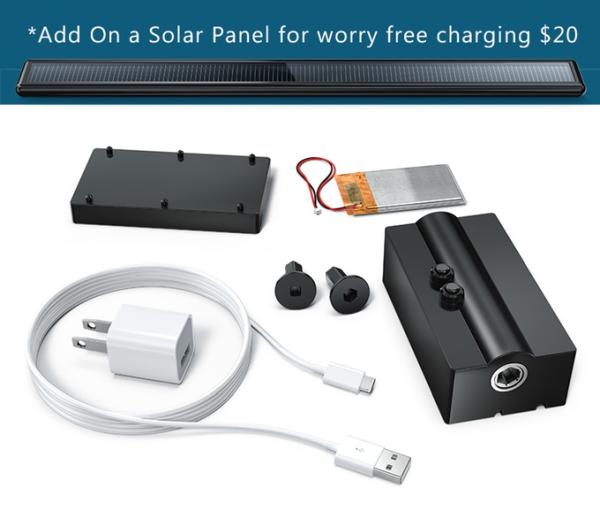 Hi, my name is Eric. As an electrical engineer and software developer, I am very excited about the opportunities offered by the Internet of Things. But also, I've been really unsatisfied with the level of fragmentation and complexity in the industry. Almost every new device requires a separate app or a new bridge. Home automation is supposed to make our lives easier. Instead, just to turn on a light, you need to find your smartphone, open an app, wait until it is connected to the bridge, and only after that, turn on the light. The complexity slows down smart home adaption and prevents many of us from using the fruits of the technological progress.
I wanted to have a product which would work right out of the box, "talk" to other appliances, and would be easy to install and manage with just a touch of a button. I visited my local Home Depot and searched online. But all the solutions currently available on the market are either very expensive or too complicated (or both).
So I had to come up with my own device.
Meet iBlinds
The iBlinds kit is made for homeowners and landlords who would like to save time and money on energy bills and to have an automated solution which makes their lives more comfortable and secure. It is designed for the busy lifestyle of contemporary people but will also be hugely appreciated by your elderly parents and people with a limited mobility by protecting them from unnecessary, dangerous "gymnastics."
iBlinds is an easy to install and manage control kit for your blinds. It will let you automate any two inch horizontal blinds in your house or office: set up a specific time to open and close, adjust them to keep your home warmer in the winter and cooler in the summer, manually control a single blind, or a group of them, from anywhere in the house or in the world, using a free app on your smartphone.
Imagine how much easier it will be to wake up with gentle sunlight coming through the blinds as they slowly open in the morning. You will feel more positive and productive during the whole day!
Think about all the time you save by automating all the blinds in your house.
Enjoy saving money on your energy bills. With iBlinds, you will find yourself using your air conditioner less frequently. Letting natural light in, you will not need to turn your lights on every time you come home or wake up.
The more windows you have, the more you will benefit from iBlinds.
If you are a landlord, iBlinds will make your life less stressful:
No need to go to each house or apartment to open and close the blinds.
Save money on energy bills by controlling heat coming in and out of the house. Lower your heating/cooling expenses.
Attract more renters by offering them a level of comfort available in luxury properties.
For more detail: DIY automation of your existing window blinds. Works with a Z-Wave controller.
Project Ratings:
Related posts