Digirule interactive binary rulers 11:56 am May 28, 2019 By Julian Horsey
Bradley Slattery has returned to Kickstarter once again to launch his latest electronic device in the form of the Digirule 1A and 2A interactive binary rulers, designed to enable owners to program in binary, play with logic gates, flip-flops and more. Watch the demonstration video below to learn more about the two different versions which are equipped with a 8-bit PIC microcontroller, multiple push-buttons and LED's.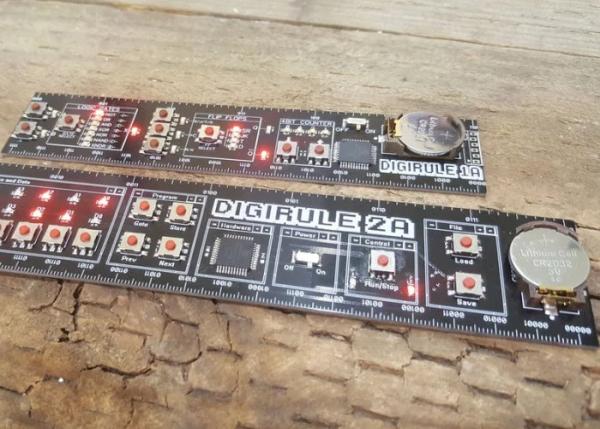 Pledges are available from £11, AU$20 or $14 and worldwide shipping is expected to take place during August 2019 if manufacturing and the Kickstarter campaign are successful.
"The Digirule 1A and 2A are perhaps the coolest circuit board rulers around. Each ruler contains an 8-bit PIC microcontroller, multiple push-buttons and LED's which allow the user to interact with them – in binary! Both of these designs have received upgrades and are now ready for release (right here on Kickstarter!) as the Digirule 1A and Digirule 2A. The Digirule 1A has received upgrades to its microcontroller, buttons and firmware while the Digirule 2A has received upgrades to its microcontroller, firmware and instruction set."
– The Digirule 1A is an interactive binary PCB ruler which features seven logic gates, four flip flops and a 4-bit binary counter, which is all powered by an 8-bit PIC microcontroller. Digirule 1A features :
– Dimensions 156mm x 33mm x 1.6mm
– Seven Logic Gates (NOT, OR, AND, XOR, NOR, NAND and XNOR)
– Four Flip Flops (SR, JK, Toggle and Data)
– Four bit binary up / down counter
– Open Source Hardware and Software
– Powered by an 8-bit Microchip PIC18F45K20 Microcontroller
– Eight built-in 'hidden' modes.
– CR2032 battery is not included due to shipping restrictions
– The Digirule 2A is essentially an 8-bit binary computer of the 1970's, built into a 20cm PCB ruler. It features an 8-bit address bus, 8-bit data bus, eight data input buttons and 35 instructions for you to code your own programs. Digirule 2A features :
– Dimensions 209mm x 40mm x 1.6mm
– 35 Instructions
– Open Source Hardware and Software
– Powered by an 8-bit Microchip PIC18F45K20 Microcontroller
– 256 Byte program memory space (four bytes are reserved)
– 8-bit data bus
– 8-bit address bus
– Eight blocks of 256 Byte flash memory to save your programs
– Eight address LED's
– Eight Data LED's
– Eight Data input buttons
– CR2032 battery is not included due to shipping restrictions
Source: Digirule interactive binary rulers 11:56 am May 28, 2019 By Julian Horsey
Project Ratings:
Related posts
Leave a Comment