AAEON, an industry leader in embedded industrial computing, announces the BOXER-6842M, the latest solution in high performance industrial computing. Powered by the 8th and 9th Generation Intel® Core™ processors and supporting graphics cards up to 250W for video capturing applications, the BOXER-6842M is designed for the most intensive applications from Edge AI server to automated optical inspection (AOI).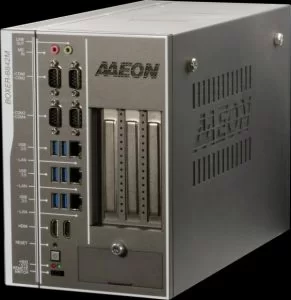 The BOXER-6842M features the 8th and 9th Generation Intel® Core™ i9/i7/i5/i3 and Xeon® E processors (formerly Coffee Lake/Coffee Lake Refresh), offering top end computing performance. Paired with up to 128 GB of SODIMM memory, the system is designed to deliver the best performance possible to handle processing intensive machine vision and AI applications. Additionally, the BOXER-6842M supports graphics cards up to 250W TDP without the need of a secondary power supply, making setup and deployment even easier.
The BOXER-6842M offers users greater expansion and storage options to better enable edge operation and quick analysis. The system can support up to four 2.5" drives (HDDS or SSDss) and features an M.2 2280 PCIe [x4] slot with support for NVMe, allowing faster read/write speeds and more efficient operating system performance. The system also includes an option of PCI Express configurations, with either one PCIe [x16] with one PCIe [x4] slots, or two PCIe [x8] (in PCIe [x16] form factor slot) with one PCIe [x4] slot. This provides a greater range of support for GPUs, frame grabber cards and AI accelerators such as the AI Core XP8 with Intel® Movidius® Myriad™ X. For applications needing a little bit more power, the BOXER-6842M can support a secondary power supply to power dual graphics cards up to 500W TDP.
The BOXER-6842M is built with several key features to operate in industrial environments. The system features rugged design with wide voltage input (12~24V) and an extensive I/O loadout including six USB3.2 Gen 1 ports, four COM ports, three RJ45 Gigabit LAN ports, and dual HDMI ports; all located on the front of the system to make it easy to manage connections.
Read more: BOXER-6842: POWERING THE NEXT GENERATION OF EDGE AI