Open source community BeagleBoard.org has announced their BeagleBone AI SBC which features a dual Cortex-A15 TI AM5729 SoC that enables AI support via dual C66x DSPs and 4x EVE cores. The SBC comes with 1GB RAM, 16GB eMMC, WiFi, and GbE. The SoC includes four powerhouse embedded-vision-engine (EVE) cores with AI capabilities. BeagleBoard.org's limited product page says the SoC can run AI code on its dual TI C66x DSPs and the four new EVE cores.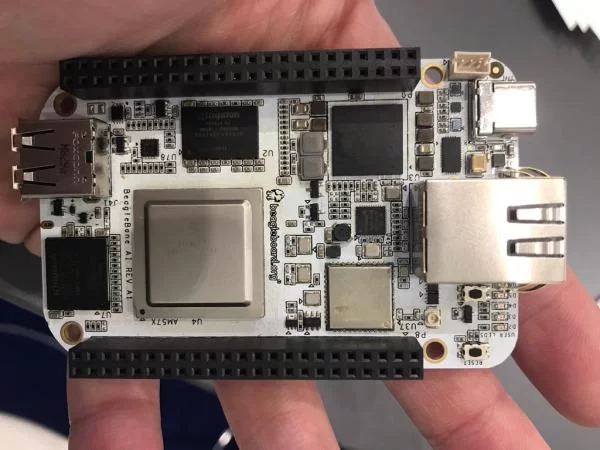 The AI-enabled chips are supported via an optimized TIDL machine learning OpenCL API with pre-installed tools, says the open source project.
BeagleBoard claims that the calculations for computer-vision models on the AM5729 run at 8x times the performance per watt in comparison to the EVE-less AM5728. The EVE cores were designed by TI for automotive vision applications via a Vision AcclerationPac architecture.  BeagleBoard does not provide any clock rate for the AM5729's dual -A15 cores, but judging from the AM5728 which clocks at 1.5GHz, the AM5729 might clock around 1.5GHz also. The SoC also features a PowerVR SGX544 3D GPU and Vivante GC320 Core 2D accelerator.
Built on the proven BeagleBoard.org open source Linux approach, BeagleBone AI fills the gap between small SBCs and more powerful industrial computers. Based on the Texas Instruments AM5729, developers have access to the powerful SoC with the ease of BeagleBone Black header and mechanical compatibility. BeagleBone AI makes it easy to explore how artificial intelligence (AI) can be used in everyday life via the TI C66x digital-signal-processor (DSP) cores and embedded-vision-engine (EVE) cores supported through an optimized TIDL machine learning OpenCL API with pre-installed tools. Focused on everyday automation in industrial, commercial and home applications.
Read more: BEAGLEBONE SBC FEATURES DUAL CORTEX-A15 SOC AND AI SUPPORT