A complete supercapacitor back-up power management system for 2.9 to 5.5V supply rails is available from Analog Devices.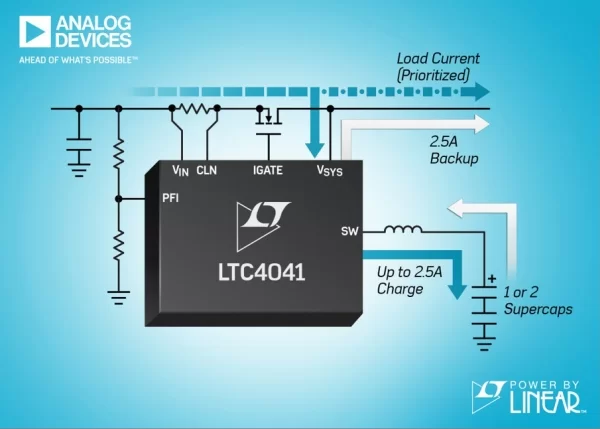 The LTC4041 uses an on-chip bi-directional synchronous converter to provide high efficiency step-down supercapacitor charging. There is also high current, high efficiency boost back-up power. When external power is available, the device operates as a step-down battery charger for one or two supercapacitor cells, giving preference to the system load. When the input supply drops below the adjustable power-fail input (PFI) threshold, the LTC4041 switches to step-up regulator operation, capable of delivering up to 2.5A to the system load from the supercapacitor. During a power fail event, its PowerPath control provides reverse blocking and a seamless switchover from input power to back-up power.
Typical applications for the LTC4041 include ride-through so-called "dying gasp" supplies, high current ride-through 3.0 to 5.0V uninterruptible power supplies (UPS), power meters, industrial alarms, servers and solid state drives (SSDs).
The LTC4041 includes an optional over-voltage protection (OVP) function using an external FET which can protect the IC from input voltages greater than 60V. An internal supercapacitor balancing circuit maintains equal voltages across each supercapacitor and limits the maximum voltage of each supercapacitor to a predetermined value. Its adjustable input current limit function enables operation from a current limited source while prioritising system load current over battery charge current.  An external disconnect switch isolates the primary input supply from the system during back-up. The device also includes input current monitoring, an input power fail indicator, and a system power fail indicator.
Read more: Back-up power manager can support two supercapacitors