Axiomtek – a world-renowned leader relentlessly devoted in the research, development and manufacture of series of innovative and reliable industrial computer products of high efficiency – is proud to introduce the ICO320-83C, a fanless DIN-rail embedded system with four RJ-45 Gigabit PoE ports for facility monitoring systems, IP video surveillance, Access Point and intercoms. This endurable industrial IoT gateway has an IP40-rated heavy-duty aluminum extrusion and steel enclosure for use in harsh environments. It can operate under wide temperature ranging from -40°C to 70°C and withstand vibration up to 2G. It is powered by the high-performance Intel® Celeron® processor N3350 or Pentium® processor N4200 and has one DDR4-2133 SO-DIMM for up to 8 GB of system memory. Axiomtek's outstanding ICO320-83C delivers high performance at a competitive price.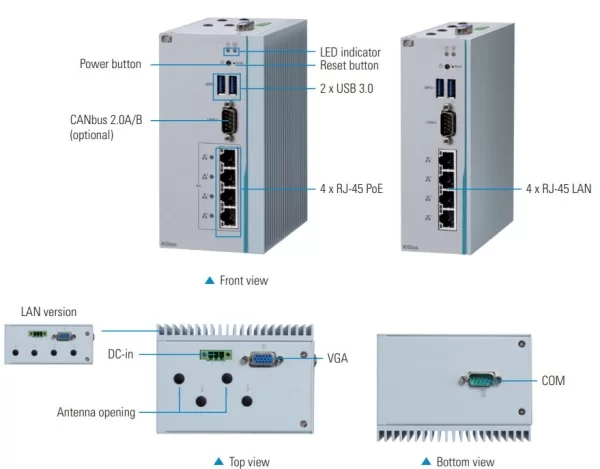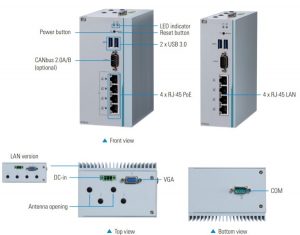 The ICO320-83C offers complete expandability and full-featured I/O, including four RJ-45 Gigabit PoE ports or four RJ-45 LAN ports, two RS-232/422/485 ports, two USB 3.0 port, one VGA port, one CANbus 2.0 A/B port, and one 8-bit programmable DIO. It also offers one full-size PCI Express Mini Card slot (USB/PCIe) and one half-size PCI Express Mini Card slot (mSATA/USB/PCIe) for wireless modules. It has a SATA drive and half-size mSATA shared with PCI Express Mini Card slot for storage. The industrial-grade embedded platform is compatible with Windows® 10 IoT and Linux operating systems. To fulfill the requirement of remote monitoring at factory, the ICO320-83C supports Axiomtek's exclusive AMS.AXView software. This reliable DIN-rail embedded system is certified with EN60950, CE and FCC. It offers an RTC battery onboard. It also supports a wide range 12 to 24 VDC terminal block power input with various power protections, including OVP, UVP, OCP, and RVP.
The DIN-rail mounting ICO320-83C is designed for easy setup and quick deployment for typical industrial applications, such as status monitoring, facility management and remote control of public utilities," said Darren Wang, a product manager of Product PM Division at Axiomtek. "Furthermore, it is a user-friendly gateway solution with four PoE ports that can save on total deployment costs including electrical power cabling cost and help reduce the product's deployment time. Its ultra-lightweight and compact design is the answer for applications in space-constricting environments while its robust IP40-rated housing and wide operating temperature range ensures that it can operate reliably in a variety of extreme environments.
Advanced Features:
Cost-effective with fanless design
Intel® Celeron® processor N3350/Pentium® processor N4200 onboard
4 RJ-45 Gigabit PoE ports
8-bit programmable DIO for IoT gateway applications
Wide operating temperature range from -40°C to +70°C
12 to 24 VDC wide range power input
OVP, UVP, OCP, RVP power protection
AXView intelligent remote monitoring software for Industrial IoT
Read more: AXIOMTEK'S ANNOUNCED FOUR-POE DIN-RAIL EDGE COMPUTER FOR IP VIDEO SURVEILLANCE – ICO320-83C