Advantech announced a new gaming and lottery board, the DPX-E265. The gaming board is based on AMD's Ryzen V1000, which features a 4x DP++ ports, 2x SATA, plus M.2, PCle x16, and PCIe x4 expansion. Prior to the DPX E265, in February of this year Advantech announced the DPC-E140 casino gaming board with AMD's Ryzen Embedded V1000.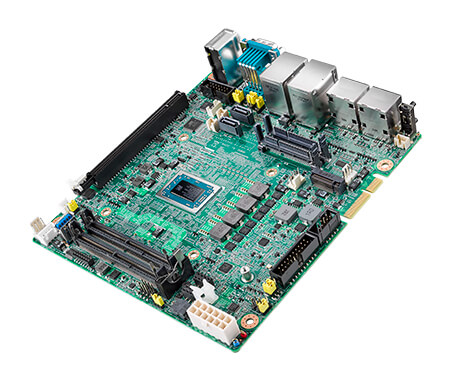 They also launched an Intel 7th Gen "Kaby Lake" based DPX-S445 casino gaming SBC in August, which was a follow up of the DPC-E140. The E265 is a lower-end gaming board, which focuses on gaming and lottery applications that fall short of extensive security and I/O features of the DPC-E140. The DPX-E265 has a smaller size than the DPC-E140.
The DPX-E265 has a remodeled Mini ITX surface area of 185 x 170mm, and the I/O ports are stacked. It runs on Windows 10, or Linux operating system and it supports up to 32GB DDR4-2666, with support for ECC RAM. The DPC-E140 is featuring 12C port with RTC, intrusion monitoring, event logging and a couple of other security features, like a standard TPM chip, secure boot, watchdog, and write-protectable BIOS in a removable module.
The DPX-E265 is fitted with 2x RS232 ports, 2x RS232 headers, and an RS232/RS485. There are 3x USB 3.0 ports, 2x USB 2.0 ports. Three standard audio jacks stand-in for the earlier model's HD 5.1 audio with stereo amplified with 20W outputs. The DPX-E265 provides a PCIe x16 Gen 3 slot and a PCIe x4 Gen 1 slot. The PCle x16 Gen 1 slot is available as a golden finger edge connector that supports "2x full PCIe x1 Gen 1.0 ports (non-standard x4 pin definition) and 2 x USB 2.0." The DPX-E265 also adds an LPC interface. The DPX-E265 board provides 4x DP++ 1.4 ports with 4K support, one of the ports supports HBR video.
Available also is CFast and dual SATA 3.0 storage, an M.2 slot (2280), and dual GbE ports with PXE, but not WoL. The 12V board supports 0 to 50°C temperature range. Custom features include custom FPGAs or MCUs or additional security features.