5AXISMAKER: First ever affordable 5axis multi-fabricator
First ever affordable 5axis multi-fabricator that brings most advanced fabrication right to your desk
Our reason for this project:
We've designed machine that combines multi- fabrication methods: 5axis milling being one of them. 5AXISMAKER is a machine versatile enough to fabricate most advanced design prototypes in readily available material while on your desktop right next to you.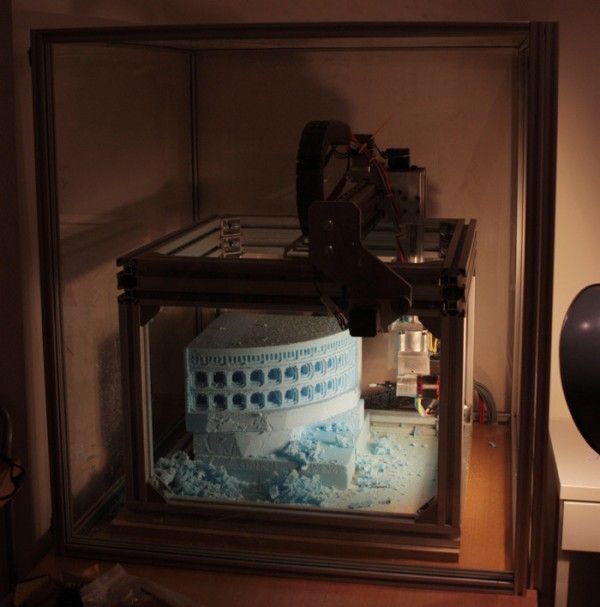 Stretch Goal £70K: every backer who gets 5AXISMAKER will receive from us a one-to-one tutorial on how to realise your very own project on 5AXISMAKER.
Being an alumni of Architectural Association we've had an access to most advanced fabrication tools in the world. Yet there is no desktop prototyping machine that has versatility to replicate this technology.
Our company has been initially found as design and fabrication practise, and after years of working with wide range of designers from different fields it has become clear that one should have an instant access to a pallet of prototyping tools. We wanted same machine to include a set of tools like CNC mill, touch-probe, 3d printer, wire-cutter and have a potential for further add-ons.
That is why we have developed 5AXISMAKER.
Most advanced fabrication comes to your desk!
We felt limited by typical desktop machines which either use only plastic or severely limited by geometry they can produce or are too small to make useful prototypes.
We created 5 axis platform that gives you an unprecedented versatility compared to 3axis platforms of readily available 3d printers and desktop cnc mills. It lets the tool work on details of the model that other machines could not reach. 5AXISMAKER comfortably sits on your desk and has a large fabrication volume for its size.
For more detail: 5AXISMAKER: First ever affordable 5axis multi-fabricator
Project Ratings:
Related posts
Leave a Comment