Würth Elektronik's 2.4 GHz modules feature six configurable I/O pins and a small 8 mm x 12 mm size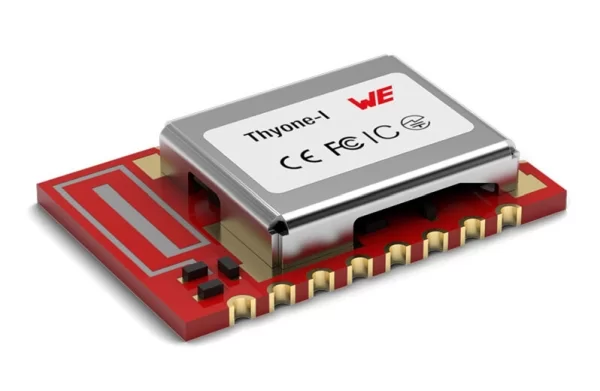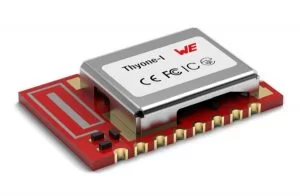 Würth Elektronik offers the Bluetooth® Low Energy 5.1 module Proteus-III and the proprietary version Thyone-I. The modules measure only 8 mm x 12 mm x 2 mm, feature an integrated antenna, encryption technology, six configurable I/O pins, and are based on the Nordic Semiconductor nRF52840 chipset. They can be used for IoT and M2M applications; for example, to build radio-based maintenance interfaces and sensor networks. The WE-ProWare firmware, which has been industry proven over many years, makes the modules extremely versatile.
The Proteus-III module is a radio sub module/device for wireless communication between devices such as control systems, remote controls, sensors, and more. With regards to Bluetooth LE 5.1, it offers a fast and secure data transmission of data packages between two or more parties (point-to-point topology). A serial interface (UART) is available for communication with the host system. The Proteus-III uses the Bluetooth LE standard to provide general data transmission between several devices. The standard itself offers a wide range of configurations and possibilities to suit and optimize sophisticated customer applications. To fulfill the needs and specifications of such applications a tailored firmware can be developed based on the Proteus-III hardware. This includes the connection and communication to custom sensors, custom Bluetooth LE profiles, timing configurations, security configuration, and power consumption optimizations. Even with its small dimensions of 8 mm x 12 mm, the Proteus-III provides a strongly miniaturized integrated PCB antenna. It is possible to connect an external antenna if high radio ranges are of interest.
Proteus-III features:
Bluetooth Low Energy 5.1 standard with 2 Mbit PHY and coded PHY (long-range)
Nordic nRF52840
Includes DIS (device information service)
Payload size up to 964 Bytes
Nano-sim size
Serial data transmission (smart serial profile)
Six configurable digital I/O pins (local and remote)
Up to 8 dBm output power
Smart antenna configuration (2-in-1 module)
Peripheral only mode (transparent)
High throughput mode
Scan and connect in long-range mode
Read more: 2.4 GHZ MODULES: PROTEUS-III AND THYONE-I