Gerber Viewer Software for Windows is a software that enables you to open and view Gerber files (GRB files) through the help of their extensive toolset. Some of this software are Gerber editor software also and allows you to view and make changes to Gerber PCB designs. The Gerber file viewer software can export the design in various formats, like SGV, PDF, PNG, PDF, JPEG, etc. You can also take a print out of the design if you want. We have various Geber Viewer software, but I'll be discussing 12 popular ones.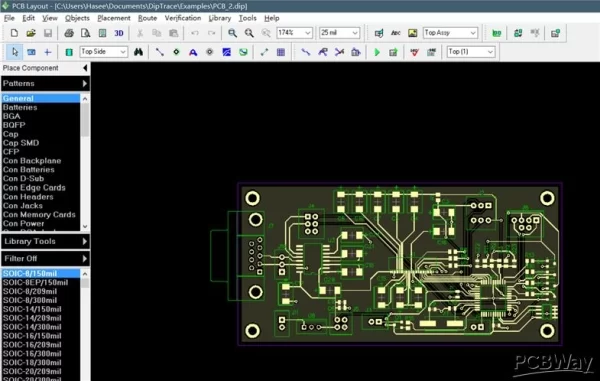 ViewMate from Pentalogix features a broad set of tools available for enhanced viewing functions. Its large array of selection tools enables you to select components, layer options to hide/delete/add layers, visibility toolbar to change layer/component visibility and do much more. It also enables you to select a distance unit from inch, mm, mil, and cm to measure the distance between components. Another function it has is allowing you to add traces/paths to a diagram as orthogonal trace, 90 degrees trace, elbow, circle, add text, etc., but you cannot save the drawing. The drawing with new additions can also be printed. It offers you the ability to experiment with the layers of a Gerber file. You can choose to change the visibility, change the color, and stretch the layers.
GerbMagic is a free viewer for Gerber RS-274x and Protel ASCII PCB (Protel v2.5 to v2.8 formats). It can also convert Gerber RS-274x and Protel ASCII PCB to PostScript, PDF, TIFF, BMP and RID formats. It is free, simple to use, and feature-rich Gerber Viewer software. It features all the basic tools needed to view Gerber files, such as Layered view, zoom, move, align, and Measure tool as well. You can also save a Gerber file as raster or vector image formats, like: bmp, eps, pdf, tiff, etc.
GerberLogix is another simple to use GRB file viewer for Windows. It enables the user to easily manage and view various layers of a Gerber file. You can move the layers up or down manually. It is equipped with all the tools to view all layers, zoom objects, select objects, move objects, etc. Another feature of it is measuring distance between point to point, object to object, and center to center. You can also change the color of layers and objects for enhanced view, and preview a drawing before you print it. Finally you can export Gerber as tiff, jpg, png, and bmp, offering the option of either exporting visible area, or complete area. The Freeware license is only valid for uncommercial usage. A license for commercial usage is available for 109 Euro (plus VAT) per workplace.
Read more: 12 AMAZING GERBER VIEWER SOFTWARE FOR WINDOWS