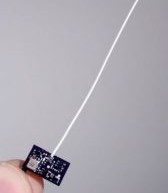 This is a little circuit that could be used to track an object up to 400m. It is essentially an SAW stabilized OOK modulated RF transmitter. The modulation is done with two low frequency ultra low power oscillators that activate the transmitter every two seconds for a short period. With the setup shown here I got up to 400m range. Current consumption is about 180uA average so it'll work for a couple of days ...
Read more

›
Description This project uses a MicrochipPIC microcontroller and an Infra-Red LED to act as a PC controlled cable TV changer. Operation The purpose of this is so that my MythTVPersonal Video Recorder (PVR) can change channels on the cable TV set-top box when making a recording. A very simple program on the computer sends the channel number over RS232 to this PIC based IR transmitter which creates the correc ...
Read more

›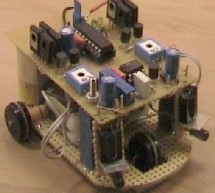 General description erberes is a small three wheel robot that avoids obstacles which it senses with its active infrared sensors. Each rear wheel has its own motor, the single front wheel is not powered. The robot steers "like a tank" by rotating the rear wheels in opposite direction. The sensors are built with infrared LEDs which are running at 36kHz and two 36 kHz remote control receiver modules. When the ...
Read more

›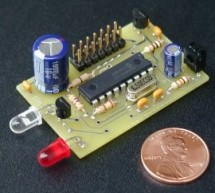 IRMimic features: Simple to train - Can learn up to 16 IR commands, and each can be in a different format/protocol Two different operating modes - Keypad or MCU interface LED indicator output - Indicates training is complete Small size - 18 pin DIP IC Chip operates from 3-5 volts DC Standby mode permits battery operation Can learn many different IR remote control protocols.  Not limited to a few specific on ...
Read more

›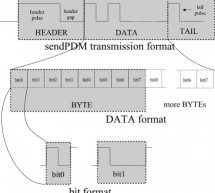 description This is a programmable infrared (remote control) transmitter, which can be controlled from a computer serial port. It is capable of sending many remote control formats, including the Philips RC-5 standard. Exact formats with the timing parameter names are shown on the pictures: operation The controller will accept commands on a serial port. Settings are: 19200 bps, 8 bits, no parity, 1 stopbit, ...
Read more

›
PicCon is a PIC microcontroller based radio controller designed for hidden transmitter hunting. When combined with a radio transmitter, it will produce tone sequences and Morse code messages at user-programmed times. It is completely field programmable via DTMF tones, utilizes EEPROM for all programmed options so they are remembered when power is removed, and is quite compact. PicCon interfaces to a radio t ...
Read more

›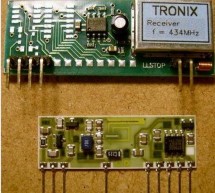 description This is a general purpose remote control project with using programmable PIC microcontrollers. Schematics are shown for using infrared (RF) or radio (RF) media. If you are not familiar with microcontroller programming, you can use fixed encoder and decoder integrated circuits instead. Well-known such IC-s are Holtek HT-12D, HT-12E and Motorola MC145026, MC145027, MC145028. Remote controls usuall ...
Read more

›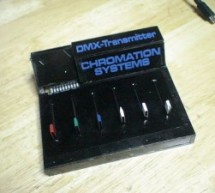 PIC18F Based 6 Channel DMX Transmitter Based on AN1076 - "Using a PIC® Microcontroller for DMX512 Communication". Modified and added to Microchip's code to use 6 AdC Channels for 6 channels of DMX data and the ability to offset its starting address via a 9-position DIP switch.Designed to demonstrate a simple DMX transmitter and to test DMX Controlled lights without having to adjust their address or change a ...
Read more

›