Spansion has added two more ARM Cortex-M4-based microcontrollers to its portfolio: the FM4 S6E2DH with an integrated graphics display controller and the S6E2CCxxF/MB9BF568F with self-contained voice command control.
"These new product families enable customers to design intuitive next generation human machine interface (HMI) systems," says Spansion's Dhiraj Handa.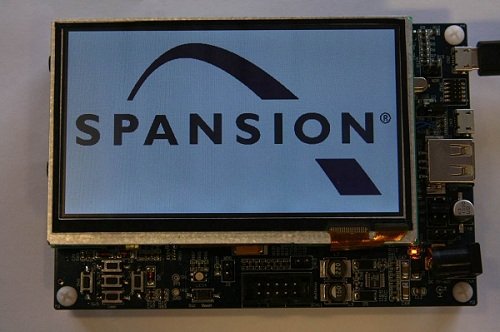 The S6E2DH combines an ARM Cortex-M4 core based microcontroller, a 2D rendering graphics display controller (GDC) with dedicated video RAM and a mix of communication and digital peripherals making it an embedded processor for integrating displays in industrial, consumer and home applications.
The GDC enables graphics processing and offloads the microcontroller CPU for other application functions. The S6E2DH series provides high-speed interfaces for connecting to NAND and NOR flash and SDRAM.
Spansion's HyperBus interface is part of the graphics subsystem allowing image retrieval without blocking code execution.
The GDC comes with a low-level library for drawing and fast rendering of 2D shapes, in addition to several image processing features such as zoom, scale, rotate, mirror and move. It also features alpha-blending transparency of layers and image decompression to reduce memory requirements while increasing image fetch speed.
The S6E2CCxxF/MB9BF568F enables voice command control with over-the-air firmware update support via Wi-Fi to the cost-sensitive consumer and home IoT market. Based on the ARM-Cortex M4 processor, the S6E2CCxxF series supports up to 2MB of flash separated into two banks allowing firmware updates during device operation.
A voice control-enabled starter kit along with the command programming software will be available next month.
For more detail: Spansion adds ARM microcontrollers for HMI