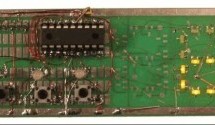 This project has been adapted from an experiment by John Ridley Stroop, who published his work in 1935. Basically it is a "trick." It is a trick in that you are required to answer a question at a "second level of thinking." In our test we have three tri-coloured LEDs and below each is a push-button. When a LED illuminates, your immediate response is to push the button below the LED. But this is not the requ ...
Read more

›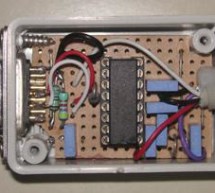 Here is a nice little project for a rainy weekend, all this can be accomplished over a weekend and for under USD 15. This page has gone through several rewrites, mainly to get rid of my 'rant mode' writing, but it seems I just need to write it out of myself. Feel free to skip the first part. For references purposes and convenience I've put all the useful links here at the top of the page: Schematics SDCC - ...
Read more

›
Introduction I have made the game pong using a pic 16F84 running @ 12MHz. The game Pong was the world's first video game in the early 70's, this is a modern version of it, made with a little bit less hardware than the original version. In my version, the video signal is generated in software. The only hardware used for the video generation is two resistors forming a 2-bit DA converter. Usually the video sig ...
Read more

›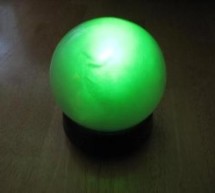 This was a fun little project I put together in a few hours for a homemade-themed gift exchange this Christmas.  I had on-hand a "Full Color LED" from Radio Shack (part 276-0028) which caught my eye on my last visit there. The LED has a common anode and three cathodes, one for each of the three primary colors: red, blue and green.  By changing the duty cycle (the fraction of time the pin is low) on each of ...
Read more

›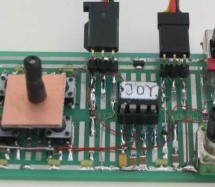 This project controls two servo motors - both clockwise and anticlockwise and has variable speed. You can use the Joy Stick to "pan and tilt" a remote camera or provide "left-right-up-down" action for a crane or an animation on your model layout. The project also tests servo motors. The CIRCUIT The circuit is fairly simple. The input from the Joy Stick has been separated into two sections to make detection ...
Read more

›
LED message system on a Strida folding bicycle wheel After I've bought my strida folding bicycle, one of the first things I've done was to check out instructables.com for any strida related projects. And quite astonished to see that there wasn't any. So I've planned to make an instructable that can be used on my (and also others') strida. I think this is the first (and only so far) project in instructables, ...
Read more

›
With my Grandma's birthday fast approaching I wanted to put something together that was not too complicated but still sweet enough to make for a cool widget gift. Since fading LEDs never seem to go out of style and grandmas always love to see a heart, putting two and two together here was a no-brainer. The concept for this small birthday present was to create a small heart shape with red LEDs and then to dr ...
Read more

›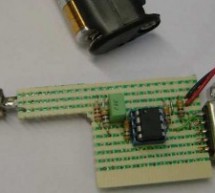 This project is based on ideas from Rickard's electronic projects page and David B. Thomas VCR Pong. However, I have developed the simplicity even further, eliminating most of the external components. Using microcontrollers with internal 4MHz clock generator there is no need for the xtal. The 12f675 part also operates on wide voltage range, and the regulator can be removed. For game controller, I plan on us ...
Read more

›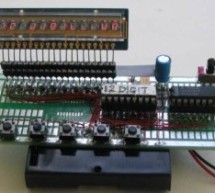 It's 1970 and a 12 digit LED Display for pocket calculators has just been released. Nation Semiconductors are in the forefront of designing miniature displays for calculators and have a range from 2-digit to 16-digit displays. The actual 7-segment displays are so small it takes a bubble magnifier in front of the LEDs to see the digits. We have used one of these in this project. Fast forward to 2011. These d ...
Read more

›

This project is a micro controller chess game. The objective has to be able to play chess on a VGA monitor, including an intelligent computer to play against. This all has been accomplished with a microcontroller. I started this as a project for the college ( I am a Electrical Engineering student ), but it has grow way beyond that. Now it is a complete chess game with a video output, keyboard for user inter ...
Read more

›