ECG on your laptop using PIC16F876 microcontroller
ECG on your laptop!
That's right! This Instructable shows you how to build a device that enables you to do an electrocardiogram on yourself, your family or your friends! All you need is intermediate-level knowledge on electronics, access to Ye' Ol' Electronics Shoppe (or online shopping if preferred) and a laptop.
The device is composed of an amplifier/filter and a microprocessor unit, everything surrounded by a metallic box to avoid interferences.
Safety warning: DO NEVER use devices like this with a regular computer, as it is not isolated from the electrical power network. It may kill you in case of an electrical anomaly!
Information about the authors: we are students living in Portugal and we developed this device for our school project named Palpita-me! (Beat in me!, says the heart). With our project we intend to alert the school community and the general public to the importance of the prevention of cardiovascular diseases. We are studying issues such as the circulatory system, its anatomy, physiology and measurable parameters, relevant diagnostic techniques (especially electrocardiography), hospital services and emergency, telemedicine, statistics and risk factors.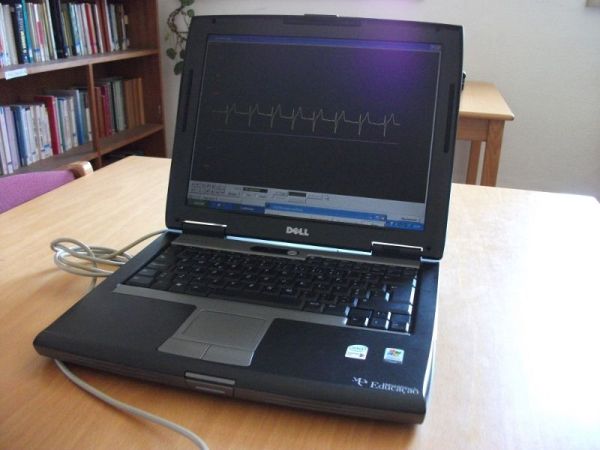 Take good care of your heart so that it will beat inside you for many happy years to come!
Feel free to visit our website and leave us a comment. We'd love hearing from you!
Plans, schematics and board layout
Our ECG amplifier/filter board schematics is derived from an Analog Devices application handbook. We adapted and complemented it to suit our needs and we used PCB123 Schematic to draw the circuit schematics. Then, we used PCB123 Layout to draw the actual board. PCB123 is a great program and it's entirely free, so you can get it here.
The microprocessor unit was made by a member of our team some years ago and at its core lies a PIC microcontroller.
To plot data on a laptop screen, we needed software that could simulate an oscilloscope. For that we used the excellent (and free) Oscilloscope.dll, written by Michael Bernstein. We thank him for his kind support.
Furthermore, we also prepared a list of components that is just too big to show up here. From our website, you can download this list, every schematic and layout we've made.
Getting ready for the build
If you would like to reproduce the unit with minimum effort, we suggest you work in a properly equipped workshop, as you are going to deal with SMT (Surface Mount Technology).


Regarding equipment, we used:
– Pneumatic solder paste dispenser, activated by foot pedal;
– Vacuum pipette pick-and-place unit;
– Soldering iron and its support;
– Multimeter;
– Miscellaneous workshop tools, like tweezers, pliers and so forth.
We ordered the bare board from a local electronics store and the rest of the materials (components) from Farnell.
We advise the usage of an anti-static wrist strap and the help of a friend.
For more detail: ECG on your laptop using PIC16F876 microcontroller
Current Project / Post can also be found using:
ecg interfacing
ecg sur proteus
instructable eeg
programer an ecg simulator
Project Ratings:
Related posts