Axiomtek – a world-renowned leader relentlessly devoted in the research, development and manufacture of series of innovative and reliable industrial computer products of high efficiency – is pleased to introduce the GOT610-837, an ultra-rugged 10.4″ vehicle-mounted touch panel computer for logistics and manufacturing applications. The feature-rich vehicle-mounted terminal is powered by the quad-core Intel® Atom® processor E3845. The all-in-one touch panel PC has a full IP65-rated aluminum front bezel for protection from water and dust ingress and features class 5M3 (EN 60721-3-5) and MIL-STD 810F certification for vibration and shock tolerance. The 10.4-inch transportation solution-ready GOT610-837 is designed to fit seamlessly into forklifts and other warehouse vehicles to improve operational efficiencies.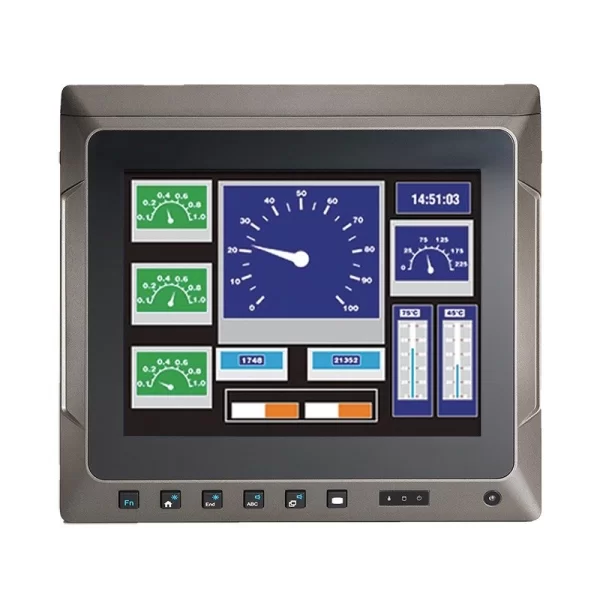 The GOT610-837 has a 10.4-inch XGA TFT LCD display with high brightness LED backlight and 500 nits of brightness. It offers two touchscreen options: 5-wire resistive touch or projected capacitive multi-touch. Its auto-dimming function allows operators to easily read the information under different light conditions. The rugged touch panel computer also has user-friendly programmable function keys on the front panel for the operators to easily control brightness, volume and LCD on/off access.
The GOT610-837 features the onboard DDR3 memory of up to 8GB; in addition, it has 16GB flash onboard and one mSATA for storage. With the fanless and ultra-slim design, the 10.4-inch vehicle-mounted terminal can be easily deployed in any space-limited environments. The Intel® Atom®-based touch panel PC is built to withstand harsh operating environments with an extended temperature range from -30°C to +55°C. It also supports a wide range power input of 9V to 60V DC that makes it suitable for harsh industrial applications. Furthermore, the 10.4″ all-in-one touch panel PC supports various mounting such as wall mount, VESA mount, arm mount and desktop stand for mounting in forklifts, clamp trucks, yard mules, cranes, and more.
Read more: AXIOMTEK'S NEW 10.4″ RUGGED AND VERSATILE VEHICLE-MOUNTED TOUCH PANEL COMPUTER – GOT610-837