Wago LED terminal blocks are ready for small and also big applications
Thin LED strip but also a powerful LED application sourced directly from 230V mains line are no problem for Wago series 2059, 2060 and 2061 terminal blocks.
Innovative series Wago 2060 now has two new familiar – smaller and bigger one. We talk about series 2059 and 2061. In result, WAGO 2059, 2060 a 2061 LED terminal blocks series create a comprehensive family of SMT connectors usable for practically any LED applications and in general – for every application, where advantages are low profile of connectors, reliable contact resistant to vibrations (spring clamp) and also aesthetical look…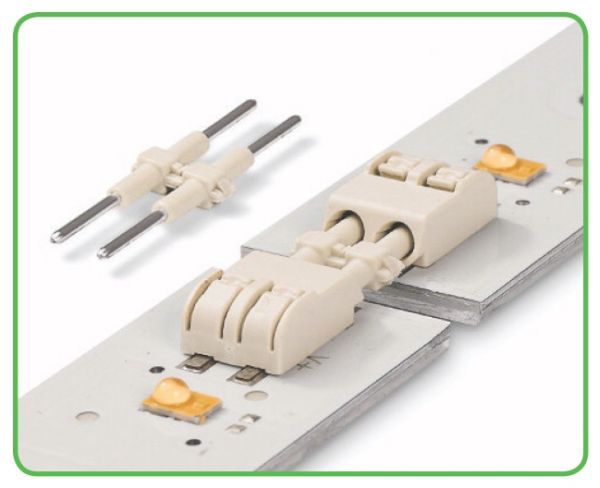 Already the 2060 series showed us all main benefits of SMT LED connectors Wago 20xx. It has found its place on a market very quickly and it´s perspective for all new designs. Moreover, now we can choose from already three types:
● 2059 – extra miniature connector, only 2.7 mm high. 160V/3A, for wires 0.14-0.34 mm2, 3mm pitch.
● 2060 – universal miniature connector, only 4.5 mm high. 160V/9A, for wires 0.2-0.75 mm2, 4mm pitch. Also available with 8mm pitch version with max. operating voltage up to 630V. Also available a THR version with wave-solderable pins.
● 2061 – the biggest (but still miniature) connector, only 5.6mm high. 320V/ 17.5A, for wires 0.5-1.,5mm2, 6 mm pitch. Ideal for direct connection of power supply to products (power input and output for LED drivers, powerful LED applications, …). A black version is also available.
For More Detail : Wago LED terminal blocks are ready for small and also big applications
Project Ratings:
Related posts