Featuring a VCSEL and Small 1.6 mm Light Hole, Device is Ideal for Consumer and Industrial Applications, Including TWS Earphones and VR / AR Headsets
The Optoelectronics Group of Vishay Intertechnology, Inc. today introduced a new fully integrated proximity sensor designed to increase efficiency and performance in consumer and industrial applications.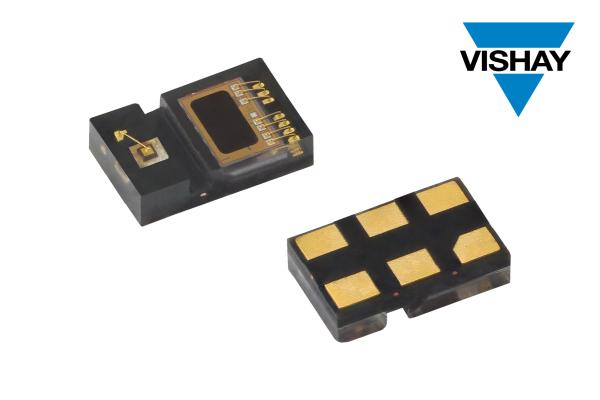 Featuring a vertical-cavity surface-emitting laser (VCSEL), the Vishay Semiconductors VCNL36825T combines a photodiode, signal processing IC, and 12-bit ADC in a compact 2.0 mm by 1.25 mm by 0.5 mm surface-mount package with a small 1.6 mm light hole.
As compared to previous-generation devices, the newly released proximity sensor offers a 76 % smaller package, while its reduced light hole opening provides increased design flexibility — all at a lower cost. The VCNL36825T's small size makes it ideal for space-constrained battery-powered applications, such as detecting if users are wearing or not wearing true wireless stereo (TWS) earphones or virtual reality / augmented reality (VR / AR) headsets. With a range of 200 mm, it also provides collision detection in toys and consumer and industrial robots. The proximity sensor features low power consumption down to 6.63 µA to increase efficiency in these applications.
Specifications
Part number: VCNL36825T
Function: PS + VCSEL
Package size (mm): 2.0 x 1.25 x 0.5
Supply voltage (V): 2.64 to 3.6
I²C bus voltage (V): 1.7 to 3.6
VCSEL Driving current (mA): 20
Operating range (mm): 200
Min. Power consumption (µA): 6.63
Proximity resolution: 12 bits
Read more: VISHAY'S NEW PROXIMITY SENSOR OFFERS POWER CONSUMPTION DOWN TO 6.63 ΜA