STORY
We built the Pirl Charger because we were unhappy with the quality of existing chargers. Few consumers know they gradually ruin their expensive devices by using poor quality chargers that deliver high noise, high ripple energy. Every consumer device comes with a charger, and those are usually well-built, but they usually have only one port, and if you lose it, you usually buy an aftermarket charger. However, replacement chargers range widely in quality, and most people don't know.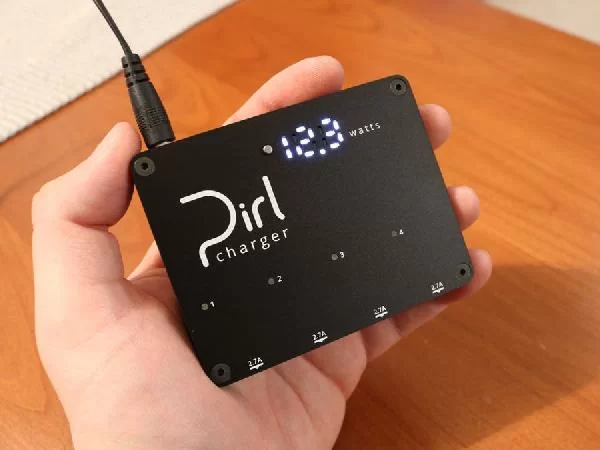 How it works:
It works by taking any DC input between 7V to 17V, from an AC/DC adapter or car adapter. It can be used anywhere with wall outlets, car power ports, lead-acid batteries, DC-output solar panels, and lithium-ion battery packs (2S, 3S, and 4S).
It then drops the voltage down to 5V and intelligently adapts to match the maximum current the device being charged would accept. We believe it is the most powerful 4-port USB charger at 10.8A. No device is throttled when every port is in use.
Robustness:
We wanted a robust device so each USB port is almost electrically independent and contains robust circuitry with overheating, static discharge, short circuit, and reverse polarity protections.
Wattmeter:
It has an integrated wattmeter so you don't need a multimeter to know how much power you are drawing devices.
Case:
Mechanically, it is built with anodized aluminum top and bottom plates, and the middle layers are made of FR4.
Specs:
You can see the rest of the specs at pirlcharger.com.
Teardown:
We have received teardown review by Lygte.
Read More: USB Adaptive Charger (2.7A per port) with Wattmeter