Hand multimeter/ datalogger with 60 000 counts, high precision, comprehensive graphic full-colour display and with the possibility to connect to a PC or a smartphone – that´s the UT 181 A.
If you consider buying a top-class multimeter, probably you already know what you expect of it.  Let´s take a look with us at main or most interesting features of the UT 181 A:
 Displaying on a full-colour backlighted TFT display with 320x240px resolution.
Possibility to display measured value graphically (value/ time) as well as numerically.
Memory for 20 000 values (measurings) backed up by a small knob coin battery. User chooses period of measurement, for example 1 second. In this case it means memory for 5,55 hrs of measuring.
High precision and resolution of 60 000 points (0,025% Vdc).
Measuring of capacity with lowest range of 6nF (pF resolution) up to 60mF (miliFarad) on a highest range.
Lowest voltage range only 60mV
True RMS measuring with a possibility to switch on Low Pass filter (1kHz)
Possibility to measure 1000V AC/DC (not only 250-600V as it is common with basic models)
2-channel adapter for temperature measuring (K type thermocouple) on 2 places simultaneously, or to display temperature difference
Optically isolated USB cable for connection with a PC and software on a CD, to display measuring even in real time as well as to read out data from device memory
Powered from a built-in Li-Ion rechargeable battery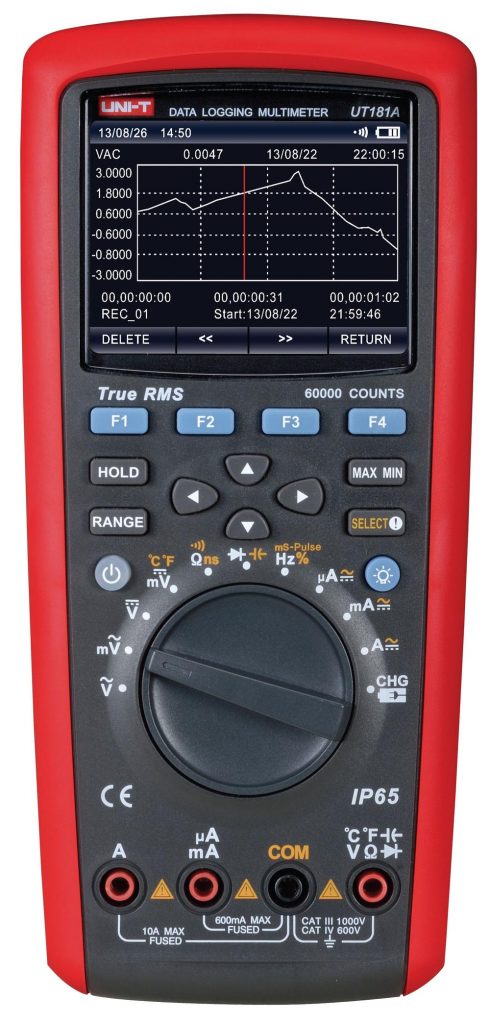 Graphic display enables to display, for example maximum, minimum and average value simultaneously. In case of wrong test leads connection, the display shows warning (Load Error). Also pleasant is a really useful fast analogue bargraph. For a demanding outdoor usage, the device features IP65 class.