Texas Instruments' 500 mW, high-efficiency low-EMI converters are suitable for ultra-high voltage applications.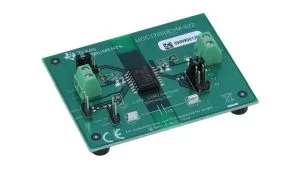 Texas Instruments' UCC12040 and UCC12050 DC/DC converters with 3 kVRMS and 5 kVRMS reinforced isolation ratings, respectively, are designed to provide efficient, isolated power to isolated circuits that require a bias supply with well-regulated output voltages. These devices integrate a transformer and DC/DC controller with proprietary architecture to provide 500 mW (typical) of isolated power with high efficiency and low EMI.
The UCC12040/50 converters integrate protection features for increase system robustness. The devices feature an enable pin, synchronization capability and regulated 5 V or 3.3 V output options with the headroom. These low-profile, miniaturized converter solutions are available in a wide-body SOIC package with 2.65 mm height (typical).
Features:
High-efficiency with integrated transformer technology
Meets CISPR32 Class B EMI limits without ferrite beads across the load range on a 2-layer PCB
Output power: 500 mW (typ.)
Input voltage: 4.5 V to 5.5 V
Package: 16-pin wide-body SOIC with >8 mm creepage and clearance
Regulated 5.0 V to 3.3 V output with selectable 400 mV headroom voltage to power an LDO
Short circuit recovery
Thermal shutdown
Extended temperature range: -40°C to +125°C
Planned safety-related certification:

CSA certification per IEC 60950-1, IEC 62368-1, and IEC 60601-1 end-equipment standards
CQC approval per GB4943.1-2011
3,000 VRMS (UCC12040) and 5,000 VRMS (UCC12050) isolation for 1 minute per UL 1577

Robust isolation barrier:

CMTI: ±100 V/ns (typ.)
Isolation rating: 3 kVRMS (UCC12040) and 5 kVRMS (UCC12050)
Surge capability: 8 kVPK (UCC12040) and 10 kVPK (UCC12050)
Working voltage: 800 VRMS (UCC12040) and 1.2 kVRMS (UCC12050)
Read more: UCC12040/50 3 KVRMS AND 5 KVRMS ISOLATED DC/DC CONVERTERS