u8plus smart watch quick teardown and uart
With the battery and the speaker pulled back we can see a MediaTek MT6261 SoC and supporting components on the left. On the right are connections for the reset button (mounted on top of the usb connector), speaker and what I assume is a vibrator motor connected to 'VIB'. The touchscreen is also connected at the top, with it's controller mounted on the flat flex cable. The home/power button is tucked in on the far left. u8plus smart watch quick teardown and uart 9 Jan 2016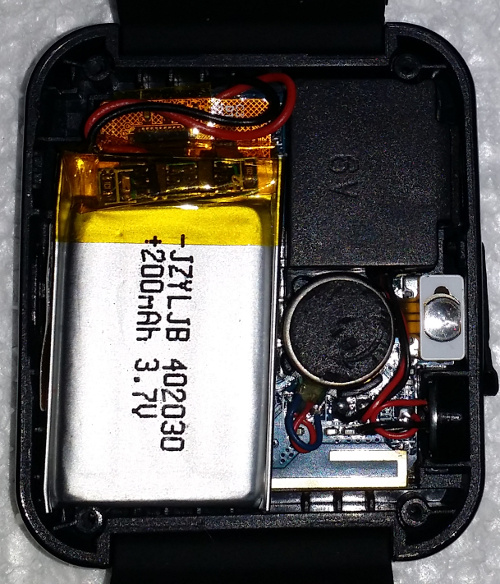 I noticed this smart watch on Amazon for the bargain price of £7.51, which was just too cheap to ignore – I didn't expect much but I was quite surprised at how functional it actually was… Anyhow, it was never expected to stay in once piece for long, and after an hour I took the screwdriver to it.
The back is covered by a aluminium plate that seemed to be sticky backed; it came off pretty easily. Underneath was four screws that released the back cover.
Inside, not much too see: a 200mAh, 3.7v battery, speaker, reset button (on the right) and what looks like a bluetooth antenna at the bottom.
With the battery and the speaker pulled back we can see a MediaTek MT6261 SoC and supporting components on the left. On the right are connections for the reset button (mounted on top of the usb connector), speaker and what I assume is a vibrator motor connected to 'VIB'. The touchscreen is also connected at the top, with it's controller mounted on the flat flex cable. The home/power button is tucked in on the far left.
The other side of the board, removed from the shell: the connections to the LCD are at the bottom, the power button on the right and some test pads sprinkled all over 🙂
The 'D+' and 'D-' and the proximity to the USB suggest the four pads on the left are for the USB; VBAT is positive side of the battery; PWR connects to the power/home button. Just slightly covered by the green label is RXD and TXD – which is likely our UART, and two others ('OW2' and 'OL0'). Above them next to PWR are five unlabelled pads – hopefully these are JTAG.
For more detail:   u8plus smart watch quick teardown and uart
Project Ratings:
Related posts