Description
The TPS61093-Q1 is a 1.2-MHz, fixed-frequency boost converter designed for high integration and high reliability. The IC integrates a 20-V power switch, input/output isolation switch, and power diode. When the output current exceeds the overload limit, the isolation switch of the IC opens up to disconnect the output from the input. This disconnection protects the IC and the input supply. The isolation switch also disconnects the output from the input during shut down to minimize leakage current.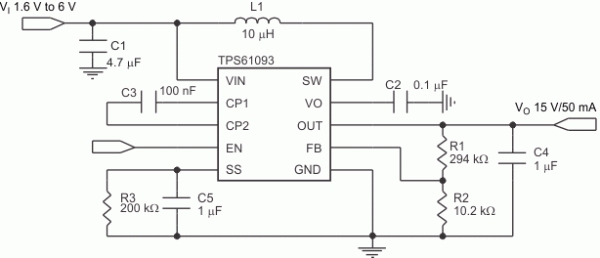 When the IC is shutdown, the output capacitor is discharged to a low voltage level by internal diodes. Other protection features include 1.1-A peak overcurrent protection (OCP) at each cycle, output overvoltage protection (OVP), thermal shutdown, and undervoltage lockout (UVLO).
With its 1.6-V minimum input voltage, the IC can be powered by two alkaline batteries, a single Li-ion battery, or 3.3-V and 5-V regulated supply. The output can be boosted up to 17-V. The TPS61093-Q1 is available in 2.5 mm × 2.5 mm SON package with thermal pad.
For more detail: TPS61093-Q1 Low Input Boost Converter With Integrated Power Diode and Input Output Isolation