8x8px LED matrix marquee project pic16c52p microcontroller based on the circuit program prepared for the RS232 port negotiation make up to 128 characters font can send 8 × 8 TA23-11EW A – matrix screens...Electronics Projects, 8X8 Matrix LED Scrolling Text Circuit RS232 Sending Text "microchip projects, microcontroller projects, " 8x8px LED matrix marquee project pic16c52p microcontroller based on the circu ...
Read more

›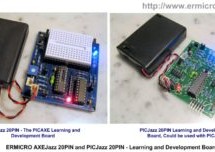 These days we are living and surrounding by many tiny computers called embedded products. Unlike the general purpose desktop computer that we use for browsing or typing our email, this tiny computer is designed to do only a limited specific task. We could easily found this embedded product just about anywhere such as home appliance (e.g. washing machine, refrigerator, microwave oven, TV/DVD), personal gadge ...
Read more

›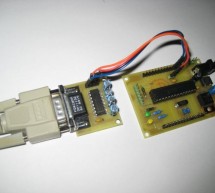 Description This article shows how to do a simple communication via a RS232 interface with a PIC microcontroller. RS232 is a standard for a serial communication interface which allows to send and receive data via at least three wires. With the RS232 interface it is possible to setup a connection between a microcontroller and a PC (via PC's COM port) or between two microcontrollers. The RS232 interface can b ...
Read more

›
RS232 can be used to communicate between a variety of devices. Like your MCU and a GSM module or a PC. In this tutorial we will demonstrate a link between a PIC18F4520 MCU and a standard PC. On PC we will run a terminal program like RealTerm or Hyperterminal. A terminal program is used to send and receive text data. So any text send by the MCU will be visible on Terminal Screen and Any keypress you make on ...
Read more

›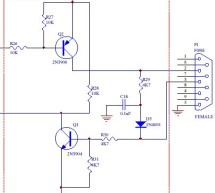 Methods: Use a TTL HI output for the RS232 GND: Steve Walz of armory.com says "Use a TTL HI output for the RS232 *GROUND*!! Then you get +/-5VDC levels to fake out the RS232. When TTL-GND goes HI, then a TTL-XMT LO looks like -5VDC and a "mark". Even sign problems go away in hardware! When TTL-GND goes LO, and TTL-XMT goes HI, it looks like +5VDC and a "space"! You can derive the two TTL signals from one of ...
Read more

›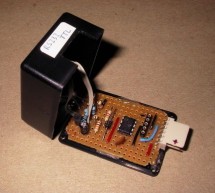 Description This project is a Microchip PIC microcontroller with an RS232 serial interface on one side and an Infra-Red receive and transmit interface on the other. Important - All mention of RS232 on this page actually refers to RS232 waveforms operating at 5V TTL levels not +/-12V levels which would destroy the PIC device. An appropriate converter between the two must be used. By sending commands on the R ...
Read more

›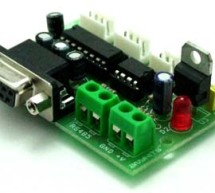 This project provides a simple and easy solution to connect your computer to a RS485 Network in either Receiver or Transmitter mode. This circuit has been designed around popular MAX232 and MAX485 interface IC. An Onboard 9 pin female "D" connects this PCB to the Serial Port cable (not supplied with the Kit). Connector J1 and J2 provide the MAX232 IC input/output (IO) and Connector CN1 provide MAX485 IO. An ...
Read more

›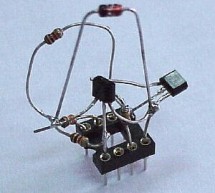 There're many, who built the Easy Programmer or C-52 EvaluationBoard, asking for the RS232C level converter chip, DS275. Many have changedto MAX232 instead, because of not available in his home. Here is anothersimple and cheap circuit using small signal transistor providing TTL toRS232C level converter. A circuit diagram shown above was used two small signal transistor,NPN and PNP transistors. Dash line sep ...
Read more

›