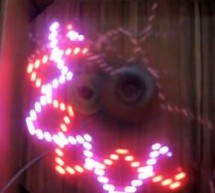 According to the air a lot of writing applications with a superior visual basic application control program prepared with the required text, printed in specified rek. PIC16F877 microcontroller used in the air circuit writing... Electronics Projects, RGB LED Air Writing Visual Basic CCS C PIC16F877 "led projects, microchip projects, microcontroller projects, pic16f877 projects, " According to the air a lot o ...
Read more

›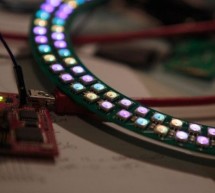 Hey, It's been along time since I've posted. but I've been keeping busy with uni and working on some cool projects for the last year. This is something I'd like to share with you guys, it's not finished yet but the hardware is more or less complete. It is an RGB LED ring clock.  IMG_1804.jpg   121.76KB   31 downloads The clock is comprised of 2 rings of 60 LEDs each. the LEDs are WS2812 parts, ...
Read more

›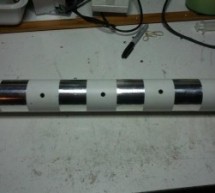 Built utilizing a 24 Channel High Current USB LED Controller to control 12 volt RGB LED Light Strip, in 8 separate groups. Each group has individual 8-bit PWM which can create over 16 million colors. And is driven at full current for maximum color saturation and accuracy. Using the ColorMotion Compatible Firmware, various colors patterns and effects can be created in the software and the uploaded to the dev ...
Read more

›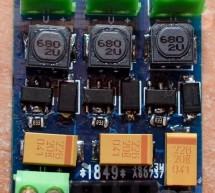 Hey guys, I built another board, which is a 3-channel (RGB) LED driver based on an inexpensive chipset called PT4115 (you can find them on eBay or Aliexpress). The circuit is very simple and looks like Sparkfun's PicoBuck. However, I used beefier components and a different chip. You may say it's pretty much the same thing, but I made it to learn some more about PCB design. Datasheet here. LED current is set ...
Read more

›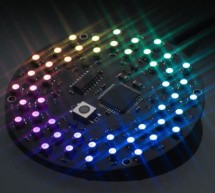 Aurora 48 is a compact and thin profile full-color LED sequencer. It's built entirely with surface mount components, so the profile is nice and clean. Step 1: Features Capable of individually controlling 48 Full color LEDs. Each LED can be faded in 7 bit per channel - 2,097,152 colors. Gamma corrected brightness curve for very smooth fades. Simple, one button control. 11 sequence pattern (as of firmware ver ...
Read more

›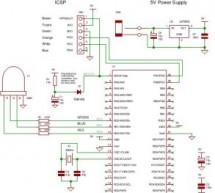 The RGB LED contains three LEDs encased in one shell: Red, Green and Blue (some contain an extra blue led - as blue LEDs generate less output intensity (candela) per mA). It looks like a single white led except that it has four leads - one for the common ground connection and one for each led. This project shows you how to produce PWM output without using the internal PWM hardware modules i.e. a softare PWM ...
Read more

›