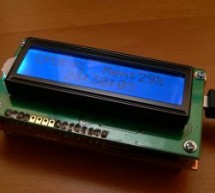 For the first version of my Open Source Framework for USB Generic HID devices based on the PIC18F and Windows I made a USB interface for an LCD. Now that I've finished the second version of the library I thought it would be fun to enhance the LCD project into a fully self-contained LCD module which fit in a 5.25 inch drive-bay of a PC case. This project explains how the LCD module can be built together with ...
Read more

›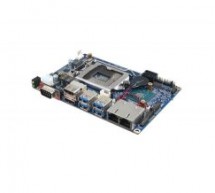 Avalue recently announced a Linux-friendly 3.5″ ECM-CFS Single Board Computer with a choice of Intel's latest 8th Gen "Coffee Lake" S-series processors. It also features triple display support, 2x GbE, 4x USB 3.1, 2x SATA, and mSATA. This SBC is considered as the world's first 3.5-inch SBC to feature Intel's 8th Gen "Coffee Lake" processors. Avalue's 146 x 101mm ECM-CFS SBC is designed keeping various appli ...
Read more

›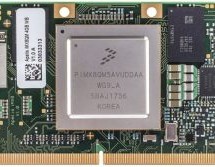 Toradex, a Swiss embedded technology firm announced the world's first embedded board built on NXP's i.MX8M QuadMax back in Mar. 2017. Recently, Toradex has opened early access for selected customers to the SODIMM-style Apalis iMX8 module. A sign-up form offers the potential for newcomers to get an early look. This new Linux powered, wireless-enabled Apalis iMX8 uses the QuadMax, which is the most powerful i ...
Read more

›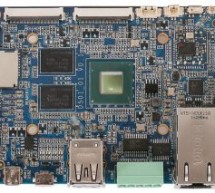 Ohio based company, Estone Technology (AKA Habey) has updated the product page for the new EMB-2610 Pico-ITX SBC. The EMB-2610 follows earlier Habey Pico-ITX SBCs such as last year's i.MX6 UL powered EMB-2200 and i.MX6 based EMB-2230. This time Estone has used a 14nm Intel Atom SoC. Rather than going with Apollo Lake, they used the quad-core, 1.92GHz Atom x5-Z8350 from the Cherry Trail family that tried but ...
Read more

›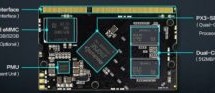 Firefly has launched a new SODIMM-style, 67.6 x 40mm Core-PX3-SEJ module that runs Android 5.1 or Ubuntu 15.04 on a Rockchip PX3-SE. It's a new 1.3GHz, quad-core, Cortex-A7 SoC. The 40 USD module is available in a 1GB RAM/8GB eMMC configuration on a $120, 117 x 85mm Firefly-PX3-SE development board. Other memory configurations may also be available soon. The PX3-SE SoC gives the module a sandwich-style dev ...
Read more

›
Bringing the industry's lowest power Bluetooth® low energy technology to IoT with a highly flexible multi-protocol 2,4 GHz radio RSL10 from ON Semiconductor. RSL10 is a multi-protocol Bluetooth 5 certified radio System on Chip (SoC) which brings ultra-low-power wireless technology to IoT. Offering the industry's lowest power consumption, RSL10 helps provide devices like heart rate monitors with advanced wir ...
Read more

›
Intel's first product was not a processor, but a memory chip: the 31011 RAM chip, released in April 1969. This chip held just 64 bits of data (equivalent to 8 letters or 16 digits) and had the steep price tag of $99.50.2 The chip's capacity was way too small to replace core memory, the dominant storage technology at the time, which stored bits in tiny magnetized ferrite cores. However, the 3101 performed at ...
Read more

›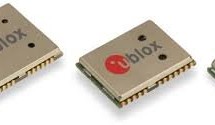 Introduction Virtually all PIC microcontrollers have some banking mechanism to extend addressing to additional memory space. But this external data memory is not directly addressable (except in some high versions of PIC18 devices, which include PIC18F8520, PIC18F6620, etc.). In this post we describe easy to implement external memory interface for PIC microcontrollers. Theoretically most of the PIC microcont ...
Read more

›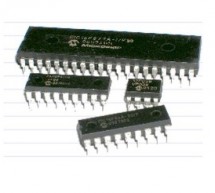 Microcontrollers are, basically, a computer in a single chip. It contains memory, processor, I/O ports (I/O = Input/Output) and other periphericals. Can you believe a single chip does contain RAM, ROM, CPU, I/O Ports, timers and other gadgets? It only needs a keyboard and display to be a working computer... ...I almost forgot; It also needs Software. Microcontrollers are expensive ccompared with CMOS ...
Read more

›