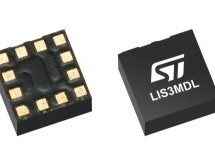 Brief Description The ZSSC3016 is a sensor signal conditioner (SSC) integrated circuit for high-accuracy amplification and analog-to-digital conversion of a differential input signal. Designed for high resolution altimeter module applications, the ZSSC3016 can perform offset, span, and 1st and 2nd order temperature compensation of the measured signal. Developed for correction of resistive bridge sensors, it ...
Read more

›
Researchers from the University of Bristol and NTT in Japan have developed an optical chip that can process photons in an infinite number of ways. According to the team, the fully reprogrammable chip marks a 'new era of research' for scientists and engineers at the cutting edge of quantum technologies. Dr Anthony Laing, who led the project, said: "A whole field of research has essentially been put onto a si ...
Read more

›
In this tutorial I'm going to be showing you how you can send voltage values to your pc using a Pic chip, Wiimote, and Autoit3 scripting language. The process works by wiring a pic chip to the button pads of a wiimote. Then using the pic chips Analog to Digital Converter, we obtain a 10bit binary value. We will then send that value to Autoit in the form of button presses using the wiimote as a data interfac ...
Read more

›
The automotive industries are now into electronics applications in which embedded systems are already part of its major components. In this design, it features the Peripheral Sensor Interface 5 (PSI5), which is the most efficient standard interface of sensors and electronic control units in automotive. It supports complete airbag system that includes system power mode control, supplies for squib firing, sat ...
Read more

›