Hello friends here is a proteus simulation of speed control of DC motor with the help of Pulse width modulation (PWM) control, PWM signals are generated by 8051 microcontroller.

As we have discussed earlier that proteus is a really good simulation software for beginners and 8051 is the most basic among all microcontroller so this can be a very good project of motor control if you are doing it for first time.
Originally this simulation was given in demo file of Proteus 8, but full H- bridge control was used there but i have used only one transistor switching to transfer PWM to motor.
Here two push buttons are used to control the duty cycle of PWM signal generated by 8051. You can see the PWM signal changing on oscilloscope when we press the buttons. (You can use these buttons to increase or decrease pulse width.)
Here is the link to download simulation files, C program and debug file for PWM generation by 8051 microcontroller.
If you have any query or suggestions you can always comment below.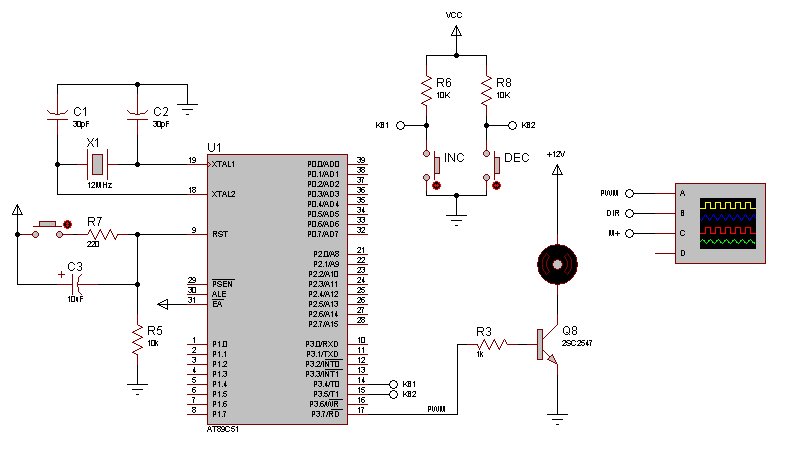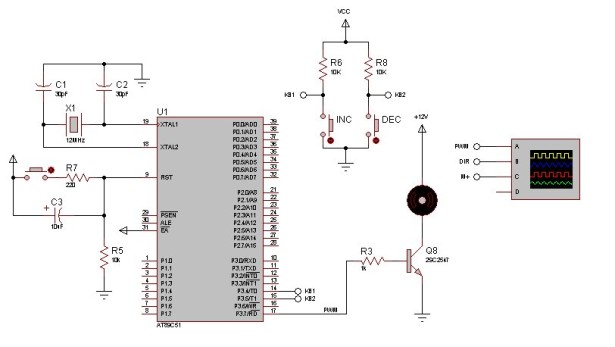 Incoming search terms:
Source : Speed control of DC motor by PWM in Proteus simulation