Scottish chip firm Wolfson improves audio in smartphones
Description
The WM7210 is a low-profile silicon digital microphone. It offers high Signal to Noise Ratio (SNR) and low power consumption and is suited to a wide variety of consumer applications.
The WM7210 incorporates Wolfson's proprietary CMOS/MEMS membrane technology, offering high reliability and high performance in a miniature, low-profile package. The WM7210 is designed to withstand the high temperatures associated with automated flow solder assembly processes. (Note that conventional microphones can be damaged by this process.)
The WM7210 incorporates a high performance ADC, which outputs a single-bit Pulse Density Modulated (PDM) audio data stream. The WM7210 supports selectable left/right channel assignment for a two-channel digital microphone interface, enabling efficient connection of multiple microphones in stereo/array configurations.
Features
High SNR; selectable sensitivity tolerance options
–  WM7210 – SNR 58dB, Sensitivity +/-3dB
Low power
–  Sleep mode – 2μA
–  Normal operation – 650μA
Low profile packaging
Support for automated flow solder assembly
PDM digital audio output
Stereo/array operation
Proprietary ADC technology
–  Reduced clock jitter sensitivity
–  Low noise floor modulation
–  Stable in overload condition
Top port package
1.64V to 3.7V supply
4.00 x 3.00 x 1.03mm thin package design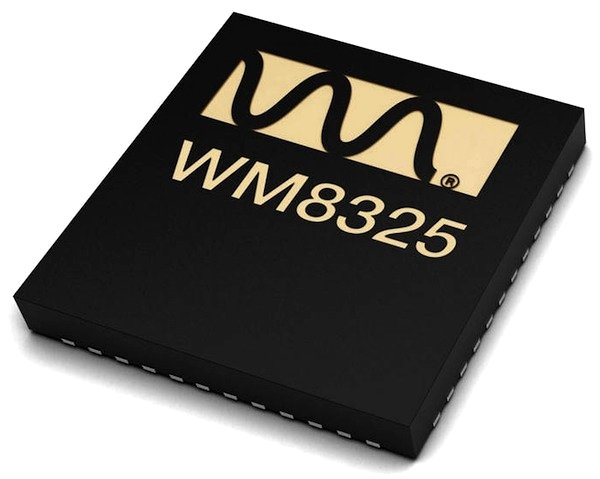 Wolfson Microelectronics has an audio hub and Class-D digital input speaker amplifier chipset for smartphones and tablet PCs.
The Scotland-based firm said it tackles the audio quality issues caused by routing analogue signals over longer distances.
The WM8996 audio hub incorporates an audio mixing methodology which handles multiple audio routings and concurrent use cases.
The chip includes a digital audio interface employing Pulse Density Modulation (PDM) protocol to connect digital microphones such as the WM7210 and WM7220 in addition to digital speaker amplifiers like the new WM9082.
The WM9082 Class-D speaker amplifier has PDM input capability and provides 92dB SNR performance.
The 2.3mm sq chip can drive up to 2.5W into a 4ohm speaker.
According to the supplier, the PDM interface format eases the complexity of form-factor end product design without compromising audio quality as it provides the option to transfer data digitally.
For more read: Scottish chip firm Wolfson improves audio in smartphones
Project Ratings:
Related posts