It is installed in cars, and thanks to a detector placed on the child seat, it warns us – via SMS or phone call – if we get away without bringing the child with us.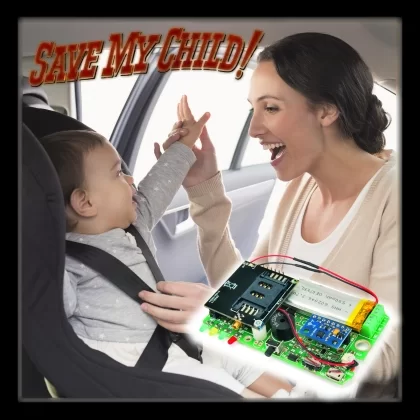 Among the most saddening (and at any rate, infrequent) accidents in the news, there are those of parents that – because of briskness, health problems or lack of attention – get out of the car and "forget" their kids on the child seat, in a hot or cold environment. Certainly, such accidents could have been avoided if someone or something reminded the driver that he left the child in the car; undoubtedly technology may help and offer solutions, to be implemented in the vehicle by the manufacturer or of the "retrofit" kind, such as the project here described here. That's a device based on a GSM cell phone that detects some parameters, on the basis of which the behavior of the driver is evaluated and the necessary actions are executed: in particular, an SMS is sent to the phone of the driver that is getting away from the car. The device is installed in the car and is powered by the electric system of the latter; it verifies that the child is on its seat (by means of a sensor that is composed of some low-profile buttons, mounted on a breadboard to be placed under the cover of the child seat): if it turns out that the buttons are pressed (therefore, the child is sat), the circuit will also verify that the vehicle has stopped (by means of a triaxial accelerometer), if so and once the set time has elapsed, it will send an alarm SMS message to the driver's phone and will let out a buzzer sound.
Moreover, it carries out a call to the same phone number and possibly to other ones, so that parents, friends, and other people may call the driver to verify what's happening.
Even though the application of choice is the aforementioned one, the project has been created in our lab as a platform that may be adapted for the other two purposes. The first one is a residual-current device for elderly and fragile people, while the second one is a remote alarm, operating in the case of blackouts (and useful for the purpose of avoiding that the freezer defrosts and that the food therein contained becomes dangerous).
Read more: Save My Child: The smart sensor that sends text messages if you forget the child in the car