Qualcomm announced back in April its QCS605 SoC, calling it "the first 10nm FinFET fabricated SoC, built for the Internet of Things." The octa-core Arm SoC is available in an Intrinsyc Open-Q 605 SBC with the full development kit, including a 12V power supply which is available for pre-order at $429. The product will ship in early December.  The QCS605 has a Qualcomm Vision Intelligence Platform, a set of mostly software components that include the Qualcomm Neural Processing SDK and camera processing software and also the company's 802.11ac WiFi, Bluetooth connectivity and security technologies.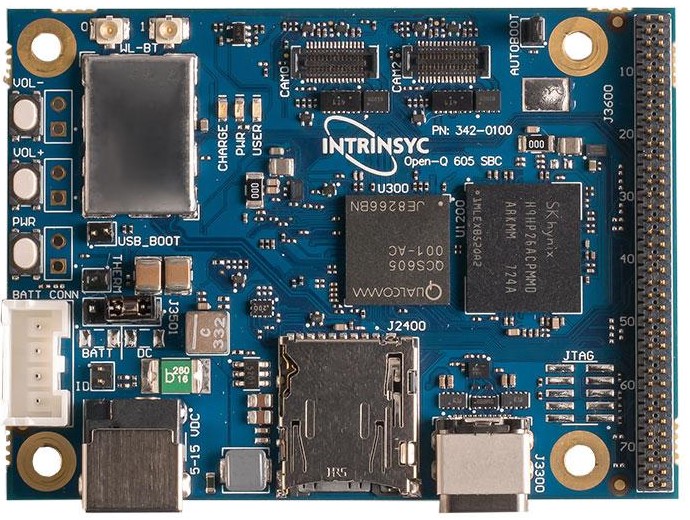 The QCS605 can run on Linux or Android, but Open-Q 605 board supports only Android 8.1. Intrinsyc also recently released an Open-Q 624A Development Kit modeled on a new Open-Q 624A SOM. The QCS605 SoC is equipped with 8x Kryo 300 CPU cores, two of which are 2.5GHz "gold" cores that are equal to Cortex-A75. The other six are 1.7GHz "silver" cores like the Cortex-A55 — Arm's more powerful follow-on to Cortex-A53. The QCS605 also incorporates an Adreno 615 GPU, a Hexagon 685 DSP with Hexagon vector extensions ("HVX"), and a Spectra 270 ISP that supports dual 16-megapixel image sensors. Qualcomm also has a QCS603 model on sale, which is identical except that it has only 2x of the 1.7GHz "Silver" cores instead of six.
Qualcomm markets the QCS605 as part of a Vision Intelligence Platform, which is a combination of software and hardware starting with a Qualcomm AI Engine built around the Qualcomm Snapdragon Neural Processing Engine (NPE) software framework. The NPE enables analysis, optimization, and debugging tools for developing with Tensorflow, Caffe, and Caffe2 frameworks. The AI Engine also includes the Open Neural Network Exchange interchange format, the Android Neural Networks API, and the Qualcomm Hexagon Neural Network library, which enables the porting of trained networks.
The Vision Intelligence Platform available on the QCS605 offers up to 2.1 TOPS (trillion operations per second) of computing performance for deep neural network inferences, according to Qualcomm. The platform also supports up to 4K @ 60fps resolution or 5.7K at 30fps and supports multiple simultaneous video streams at a lower resolution. The board also features a "staggered" HDR to prevent ghost effects in the high-dynamic-range video.
Also, advanced electronic image stabilization, de-warp, de-noise, chromatic aberration correction, and motion compensated temporal filters in hardware are available. Apart from the Snapdragon 600 based Open-Q 600, the Open-Q 605 is the only Open-Q development board that Intrinsyc tags as an SBC. Many of Open-Q's kits are computer modules or sandwich-style carrier board starter kits based on Intrinsyc modules fitted with Snapdragon SoCs, such as the recent, Snapdragon 670 based Open-Q 670 HDK. The 68 x 50mm Open-Q 605 will ship with an eMCP package with 4GB LPDDR4x RAM and 32GB eMMC flash, and additional storage is available through a microSD slot.
The QCS605 depends on the 802.11ac (WiFi 5) and Bluetooth 5.x radios for networking. A Qualcomm GNSS receiver for location and 3x U.FL connectors is also available. The QCS605 is equipped with a real-world coastline port USB Type-C that supports DisplayPort 1.4 with 4K@30fps support. If you want to use the Type-C port for USB or charging a user-supplied Li-Ion battery, you can resort to an HD-ready MIPI DSI interface with touch support. 2x MIPI-CSI is also available for dual cameras, as well as 2x analog audio. The Open-Q 605 has a 76-pin expansion header for other interfaces, including an I2S/SLIMBus digital audio interface. The board runs on a 5-15V DC input and offers an extended -25 to 60°C operating range.
Specifications listed for the Open-Q 605 SBC include:
Processor — Qualcomm QCS605 with Vision Intelligence Platform (2x up to 2.5GHz and 6x up to 1.7GHz Krait 300 cores); Adreno 615 GPU; Hexagon 685 DSP; Spectra 270 ISP; Qualcomm AI Engine and other VIP components
Memory/storage — 4GB LPDDR4X and 32GB eMMC flash in combo eMCP package; microSD slot.
Wireless: 802.11b/g/n/ac 2×2 dual-band WiFi (Qualcomm WCN3990) with planned FCC/IC/CE certification, Bluetooth 5.x, Qualcomm GNSS (SDR660G) receiver with Qualcomm Location Suite Gen9 VT, U.FL antenna connectors for WiFi, BT, GNSS
Media I/O: DisplayPort 1.4 via USB Type-C up to 4K@30 with USB data concurrency (USB and power), MIPI DSI (4-lane) with I2C touch interface on flex cable connector for up to 1080p30, 2x MIPI-CSI (4-lane) with micro-camera module connectors, 2x analog mic I/Ps, speaker O/P, headset I/O, I2S/SLIMBus digital audio interface with 2x DMIC ports (via 76-pin expansion header)
Expansion — 76-pin header (multiple SPI, I2C, UART, GPIO, and sensor I/O; digital and analog audio I/O, LED flash O/P, haptic O/P, power output rails
Other features — 3x LEDs; 4x mounting holes; optional dev kit with quick start guide, docs, SW updates
Operating temperature — -25 to 60°C
Power — 5-15V DC jack and support for user-supplied Li-Ion battery with USB Type-C charging; PM670 + PM670L PMIC; 12V supply with dev kit
Dimensions — 68 x 50 x 13mm
Operating system — Android 8.1 Oreo
Source : QUALCOMM LAUNCHES 10NM, OCTA-CORE QCS605 IOT SOC