AAEON, an industry leader in factory AI and Edge Computing solutions, announces the latest product in the UP line of products, the UP Xtreme board and UP Xtreme Edge embedded system, also called UPX Edge. With the power of the 8th Generation Intel® Core™ processors, the UP Xtreme is built to power industrial automation, robotics, AI, and IoT applications.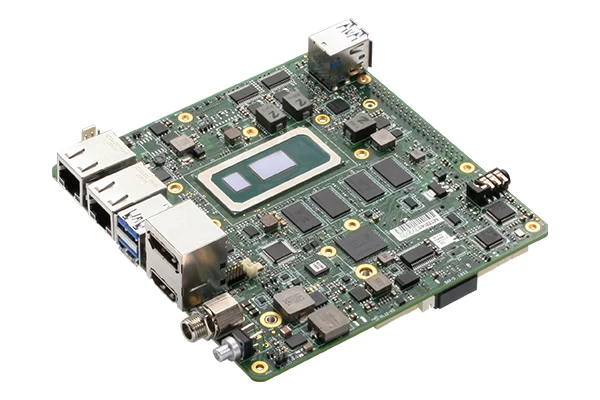 The UP Xtreme represents the third generation of UP Board products, powered by 8th Generation Intel® Core™ and Celeron® processors (formerly Whiskey Lake) with up to 16GB of onboard RAM and 64GB of eMMC memory to power through any application. With the latest Intel® graphics solution, the UP Xtreme is capable of 4K video output, and features a built-in audio jack as standard.
The UP Xtreme brings industrial grade features to the UP line of products, such as 12~60V wide voltage power input, two RS232/422/485 10-pin headers, and time sensitive networking (TSN) to facilitate communication in a connected factory. The UP Xtreme is also built to perform in temperatures ranging from 0°C up to 60°C.
The UP Xtreme offers flexible expandability with both a 40-pin and 100-pin connector, as well as m.2 2230 and 2280 slots, and mPCIe slots. The UP Xtreme can be expanded with wireless modules for Wi-Fi, Bluetooth, 4G and LTE. The UP Xtreme is compatible with other UP Board modules, including the AI Core X, AI Core XM 2280, and Vision Plus X, all featuring the Intel® Movidius™ Myriad™ X. With each module installed, the UP Xtreme supports up to six Intel® Movidius™ Myriad™ X modules, providing high-performance AI processing for edge computing applications.
For those in need of a system that's ready to go out of the box, AAEON also offers the UPX Edge system. With the UP Xtreme board at its heart, the UPX Edge makes deploying a powerful edge system easy, whether it's as a factory IoT gateway, AI powered machine controller, or in a smart retail application. Utilizing an innovative fanless design and thermal solution, the UPX Edge can operate in even more extreme conditions, from -20°C to 70°C (tested with AI Core XM, 2x Intel® Movidius™ Myriad™ X).
The UP Xtreme and UPX Edge offers users the support of AAEON services, as well as the resources of the ever-growing and open UP community. You can easily find all the information you need from AAEON's partners in AI, IoT, robotics, and automation. AAEON also offers their manufacturer services as well as OEM/ODM support to provide end-to-end solutions including customization and configuration.
Read more: PUSH PERFORMANCE TO THE EDGE WITH UP XTREME FROM AAEON