NASE 2 Tools Nano Rework station is one of the best solutions for soldering and rework of SMD componentsrequiring the highest precision. It works simultaneously with the NT115-A Nano Handpiece and the AN115 Steady Nano Tweezers. The short distance from the tip to the handle offers maximum control even when using a microscope.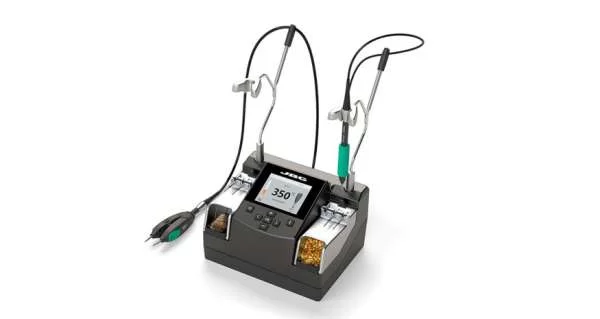 Temperature Dynamic Profiles
The NASE-C comes with the new Temperature Dynamic Profiles functionality. The use of these profiles allows you to control the temperature of the component during all the phases of the soldering process, emulating the heating process in a reflow oven.
Its easy to use menu is configurable in 10 different languages: English, German, Spanish, French, Italian, Portuguese, Russian, Japanese, Korean and Chinese.
The NASE-C Rework Station works with the C115 Cartridge Range.
Specifications
Temperature: 90 to 450 ºC / 190 to 840 ºF
Dynamic Soldering Profiles: Designed to avoid thermal shock when soldering Ceramic Chip components like MLCC, this new and unique feature allows controlling the heating ramp up rate of the tool to gradually increase the temperature of the component through all the phases of the soldering process.
Up to 25 fully configurable soldering profiles can be stored.
Special Features
Sleep and Hibernation mode: These modes lower soldering tip temperature when the tool rests in the stand in order to avoid oxidation and extending tip life.
Max. and min. temperature: Limit the temperature range in which the operator is allowed to work.
Temperatue levels: Instant selection of up to 3 editable temperature settings for solder joints with different heat requirement.
Soldering graphics: Real time visualization of tip temperature and power delivered to the solder joint during soldering process.
PIN protection: Keep station parameters protected against unauthorized access.
10 user interface languages: English, German, Spanish, French, Italian, Portuguese, Russian, Japanese, Korean, Chinese.c