FriendlyARM released a new member to NanoPC family. NanoPC-T3. It's a powerful board for $75 (without shipping).
The NanoPC-T3 Plus octa-core single board computer is designed and developed for professional and enterprise users. It uses the Samsung Octa-Core Cortex-A53 S5P6818 SoC. Compared to the FriendlyELEC NanoPC-T2 the NanoPC-T3 Plus not only has all the T2's interfaces and ports but also has a more powerful SoC. Its dynamic frequency scales from 400M up to 1.4GHz. The NanoPC-T3 Plus has 16G eMMC onboard, audio jack, video input/output interfaces, built-in WiFi, Bluetooth and Gbps Ethernet port. In addition the NanoPC-T3 Plus) has power management, on board porcelain antenna and serial debug port. To avoid overheat issues the NanoPC-T3 Plus has a heat sink with mounting holes.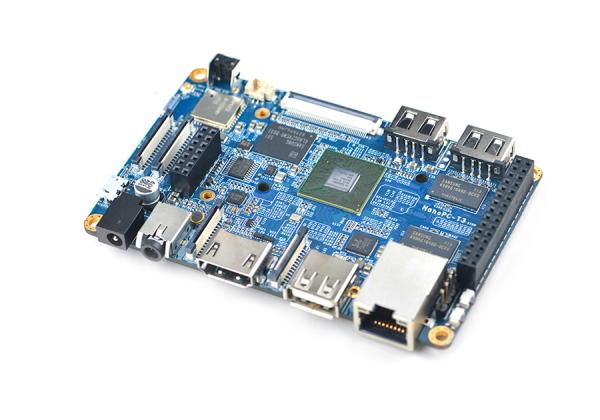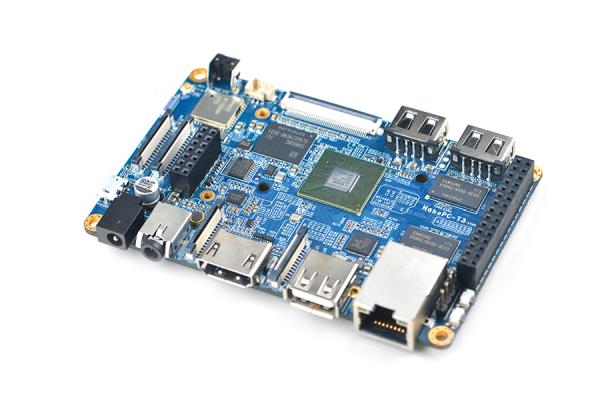 The NanoPC-T3 Plus has two camera interfaces: a DVP camera interface and a MIPI-CSI interface, and four video interfaces: HDMI 1.4A, LVDS, parallel RGB-LCD interface and MIPI-DSI interface. It supports RTC and has RTC interface pins. It has four USB ports with three being type A ports and one being 2.54mm pitch pin-headers.
The NanoPC-T3 Plus supports multiple OS systems e.g. Android5.1, Debian and UbuntoCore+Qt. It is an open source project with rich interfaces and ports.
Specifications
SoC: Samsung S5P6818 Octa-Core Cortex-A53, 400M Hz – 1.4G Hz
PMU Power Management: Implemented by a Cortex-M0 MCU, support software power-off, sleep and wakeup functions
System Memory: 2GB 32bit DDR3 RAM
SD Storage: 1 x microSD Card Socket
Ethernet: Gbit Ethernet(RTL8211E)
WiFi: 802.11b/g/n
Bluetooth: 4.0 dual mode
Antenna: Porcelain Antenna IPX Interface
eMMC: 16GB
Video Input: DVP Camera/MIPI-CSI (two camera interfaces)
Video Output: HDMI Type-A / LVDS / Parallel RGB-LCD / MIPI-DSI (four video output interfaces)
Audio: 3.5 mm audio jack / via HDMI
Microphone: onboard Microphone
USB Host: 4 x USB 2.0 Host, three type A ports and one 2.54 mm pitch pin-headers
MicroUSB: 1 x MicroUSB 2.0 Client, Type A
LCD Interface: 0.5mm pitch 45 pin FPC seat, full color RGB 8-8-8
HDMI: 1.4A Type A, 1080P
DVP Camera: 0.5mm pitch 24 pin FPC seat
GPIO: 2.54 mm pitch 30 pin-header
I2S/USB: 2.54 mm pitch 14 pin-header
Serial Debug Port: 2.54mm pitch 4-pin-header
User Key: power, Reset, boot selection
LED: 1 x power LED and 1 x system LED
Other Resources: CPU's internal TMU
RTC Battery: RTC Battery Seat
Heat Sink: 1 x Heat Sink with mounting holes
Power: DC 5V/3A
PCB: Six Layer
Dimension: 100 mm x 64 mm
Working Temperature: -40℃ to 80℃
OS/Software: uboot, Android and Debian
Read More:NANOPC-T3 – OCTA-CORE, 2GB DDR3, EMMC STORAGE, GBPS ETHERNET, WIFI&BT