WOW!
Less than 2 days left and only $4,000 away from our stretch goal!
Incredible.
Looks like everyone's going to get a rainbow snap band!
Those of you who have shared and upgraded your pledge thank you so much. We really really appreciate it.
If you haven't upgraded to a Family Pack
Remember these aren't just limited to the family. You get 4 Mover Kits for $43 each, that's 4 birthday presents sorted, 4 holiday gifts that can go to the family, 4 pass the parcel prizes…the list is endless!
Thank you SO MUCH to each and every one of you, you have been a huge part of the next step for Technology Will Save Us.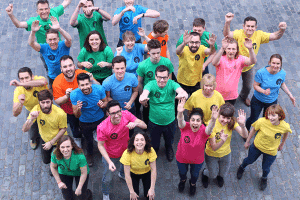 We're now busy producing your Movers, painting rainbow snap bands, packaging everything and getting the coding platform ready for all your awesome inventions!
As we work towards making the Mover Kit experience as great as it can be, we'd really love to understand how your future inventors use their technology and devices. It would mean a lot to us if you could fill out this survey today, so that we can perfect the Mover Experience for you. We're not tracking who said what, just looking for an aggregate of how our backers use their devices.
Happy inventing!
For more detail:  Mover Kit: get kids moving, building & coding