The USB-C PD-Sink is a board by Pier 42 that enables any device to be powered from a USB supply. It allows the option to set the voltage at 5V, 9V, 12V, 15V or 20V and allowing current as high as 5A.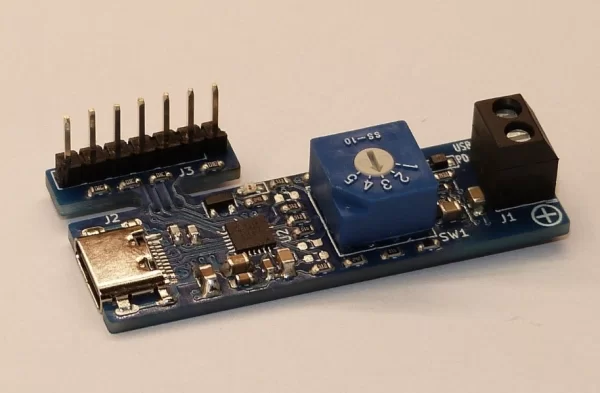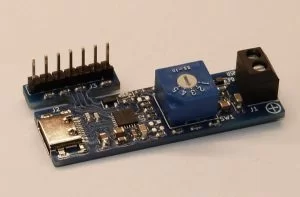 The current settings are very flexible in steps of 250mA from 0 to 5A, but this depends on whether the source can limit the current in those small steps. It uses 2oz copper thickness to ensure good current capacity.
The board was built to develop a standard way to use a USB-C power delivery (USB PD) instead of random power adapters. It will prevent the typical USB-C case where your power adapter cannot supply enough current for your load.
No programming or software configuration is needed for the regular operation of the board because all options are set through resistor values. Any type of power connector can be connected to the board through a 2-pin screw terminal or directly soldered into the PCB for projects on a low budget especially during rapid prototyping.
An I2C interface to a microcontroller is available, to access status and control registers. This part of the board is separated through a break-off tab (mouse bits) and can be snapped off. However, it is recommended to score a line along the holes on both sides before snapping off so that you put less stress on the components nearby.
A USB-A connector option at the output end was not included by design since the device could put more than 5 volts through the VBUS pin of the USB cable, which could destroy the device that is plugged in.
Some features of the device are :
USB-C PD Power Delivery Sink
Selector switch for 5V, 9V, 12V, 15V or 20V
Max current 5A, settable in 250mA steps through resistor options
Red LED to indicate failed power request
I2C telemetry interface to the controller chip
Snap off option for a telemetry interface
For fixed voltage, the switch can be replaced by wire jumper
small form factor to be heat-shrunk as part of the power cable
Size 48mm x 15mm (without telemetry interface)
Height 12mm with screw terminal and switch, 6mm without.
2oz copper to safely handle 5A
Lead-free to be RoHS compliant
Read more: MINI USB-C PD SINK BOARD ENABLES POWER REGULATION FOR ANY DEVICE