Cree's CGHV14500 is a gallium-nitride (GaN) high-electron-mobility transistor (HEMT) designed specifically with high efficiency, high gain and wide bandwidth capabilities, which makes the CGHV14500 ideal for 1.2 – 1.4-GHz L-Band radar-amplifier applications. The transistor could be utilized for band-specific applications ranging from UHF through 1800 MHz. The package options are ceramic/metal flange and pill package. – See more at: http://www.cree.com/rf/products/sband-xband-cband/packaged-discrete-transistors/cghv14500#sthash.rYAwUlER.dpuf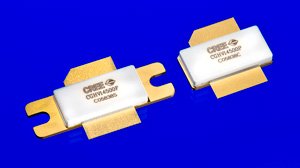 Features
Reference design amplifier 1.2 – 1.4-GHz operation
FET tuning range UHF through 1800 MHz
500-W typical output power
17-dB power gain
67% typical drain efficiency
<0.3-dB pulsed amplitude droop
Internally pre-matched on input, unmatched output
Applications
– See more at: http://www.cree.com/rf/products/sband-xband-cband/packaged-discrete-transistors/cghv14500#sthash.rYAwUlER.dpuf
Cree has released a 500W gallium nitride HEMTs for 1.2-1.4GHz L-Band radar amplifier systems.
Called CGHV14500, it also has a 250W partner, the CGHV14250.
According to the firm, they have "the highest known L-Band efficiency performance at 85°C".
Applications are foreseen between UHF and 1.8GHz in: tactical air navigation systems (TACAN), identification: friend or foe (IFF) systems, and military telemetry.
The devices are being made on Cree's 50V 0.4µm GaN-on-SiC foundry and are available in ceramic/metal flange and pill packages – claimed to be smaller than competing GaAs or silicon RF technology.
Inputs are internally pre-matched, and the 500W device has 17dB power gain and 70% typical drain efficiency at 85°C.
The 250W device, said Cree, features 330W typical output power as well as 18dB power gain and 77% typical drain efficiency.
– See more at: http://www.electronicsweekly.com/news/components/analogue-and-discretes/cree-aims-at-the-military-with-half-kilowatt-gan-hemt-2013-08/#sthash.lqORXFC0.dpuf