Battery testers provide an easy way for hardware designers and hobbyists to determine the genuine capacity of βatteries. There are different makes and models being sold across diverse online stores but one which stands out among all that I have used in recent times is the ZKETECH EBD-A20H.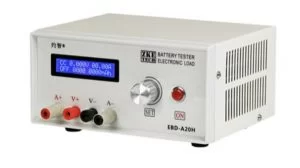 ZKE, over the years, has produced some interesting battery testers like the handy EBD-MO5, but the EBD-A20H is probably the most versatile and professional looking one I've seen.
Spotting the kind of professional look that will fit right on the workbench in any lab (Professional or DIY home lab), the ZKETECH EBD-A20H is essentially a DC electronic load with multiple, controlled, battery discharge modes, that can be used to conduct various battery capacity and other power-related tests.
Some specifications of the EBD-A20H include:
Power Supply: DC 12V/1A
Voltage Setting: 0.00-30.00V, minimum step is 0.01V
Current Setting: 0.1-20.00A, minimum step is 0.01A (Current automatically limits when power is overrun)
Test mode: DSC-CC: constant discharge current for testing battery capacity or supply current/ DSC-CP: Constant discharge power for simulating constant power equipment or testing power supply
Voltage Test: 0.000-4.500V (low pressure) accuracy to 0.003V, error ±0.5% / 4.50V-30.00V (high pressure) accuracy to 0.01V, error ± 0.5%
Current Test: 0.10-20.00A, accuracy to 0.01A, error ± 0.5%
Capacity Test: Within 10Ah, resolution is 0.001Ah/ 10Ah-100Ah resolution is 0.01Ah/ Above 100Ah resolution is 0.1Ah
Discharge Power: Max 200W (It should be controlled within 90% for a long time working)
To make the visualization and analysis of test data easier, asides the LED display where the test data including voltage, current, capacity, time, power, energy, are displayed, the device also works with the "EB software" which precisely displays and can be used to plot curves, perform calibration benchmark tests, automatic current testing and also push firmware upgrades to the Battery tester device.
Read more: MEET THE ZKETECH EBD-A20H DC ELECTRONIC LOAD/BATTERY CAPACITY & DISCHARGE TESTER/POWER SUPPLY TESTER