The manufacturing industry is one which can be highly lucrative and continuously in demand, so it is easy to see why so many entrepreneurs enter this field. While there is certainly the potential for success here, you will also find that manufacturing is a fiercely competitive industry, and it can be hard to stand out from the crowd. So, how can you find success in a competitive industry like this? There ar ...
Read more

›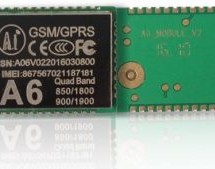 ShenZhen Ai-thinker CO.,a leading enterprise in the Internet of Things (IoT) industry and the maker of the ESP-12E module, had launched a new killer module: $3.60 GSM GPRS A6 Module! Providing a chip cheaper than the popular ESP8266 seems to be promising and opens doors for future IoT inventions. This module seems to be a big competitor for SIM900 series module. This chip is considered the cheapest platform ...
Read more

›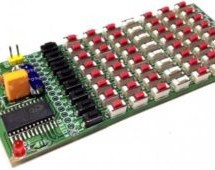 64 channels Infra-Red Remote Transmitter circuit build around PT2222M IC, The IC is pin to pin compatible with NEC uPD6122 respectively, the remote is capable of controlling 64 functions keys and 3 double keys. The PT2222M Infra-red remote control transmission ICs using the NEC transmission format that is ideally suited for TVs, DVD Players, Audio Equipment, Air Condition, etc. By combining external diode a ...
Read more

›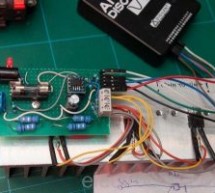 Intro What does one do when designing a power supply? Well, build a power supply tester, of course. One of the simplest things to build is a constant current load. This will allow for testing of the endurance of the power supply, as most of the designs out there are using slow components. However, I wanted to make a better one: one that I could hook up to my Analog Discovery and generate a test waveform to ...
Read more

›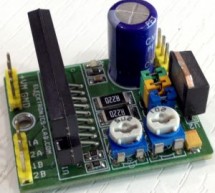 2 Phase stepping motor driver is a tiny board based on STK682-010 hybrid IC from ON semiconductor and it can deliver current up to 2.5Amp and has supply up to 32V DC. It has multiple micro-stepping: Full step, 1/2th Step, 1/4th Step, 1/8th Step, 1/16th Step, 1/32th Step, 1/64th Step, 1/128th Step.  PR1 trimmer potentiometer is provided to set the decay, 3.5V Slow Decay, 1.1V to 3.1V Mixed Decay, 0.8V-1V Fas ...
Read more

›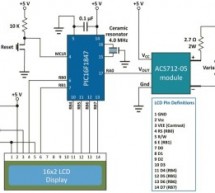 In the first part of this discussion, the features of ACS712 device were briefly discussed. Now we will use that theory to implement the ACS712 sensor to make a simple DC current meter. The analog output voltage from the sensor is measured through an ADC channel of the PIC16F1847 microcontroller. A voltage to current conversion equation will be derived and implemented in the firmware of the PIC microcontrol ...
Read more

›
The LTC6268-10 is a single 4GHz FET input op amp for high dynamic range and high speed transimpedance amplifier (TIA) applications. This new decompensated amplifiers extend the speed and dynamic range capabilities of this ultralow bias current op amp family for applications with a gain of 10 or higher. Input bias current is 0.9pA max over the 40°C to 85°C temperature range and just 4pA max over the entire 4 ...
Read more

›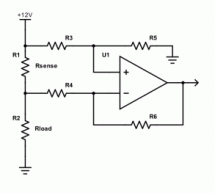 As EDN's Design Ideas editor, I see a range of design submissions, from good, to not so good. A recent DI I turned down for several reasons included a high-side current sense circuit with implementation problems. This got me thinking about the different ways to accomplish current sensing on a voltage rail. At their heart, the majority of DC current sense circuits start with a resistance in a supply line (th ...
Read more

›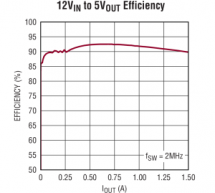 Features Wide Input Voltage Range: 3.0V to 42V Ultralow Quiescent Current Burst Mode® Operation: <2.5μA IQ Regulating 12VIN to 3.3VOUT Output Ripple <10mVP-P High Efficiency 2MHz Synchronous Operation: >92% Efficiency at 0.5A, 5VOUT from 12VIN 1.5A Continuous Output Current Fast Minimum Switch-On Time: 45ns Adjustable and Synchronizable: 200kHz to 2.2MHz Spread Spectrum Frequency Modulation for Low ...
Read more

›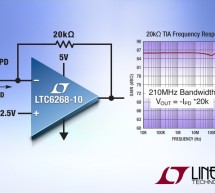 Features Gain Bandwidth Product: 4GHz Low Input Bias Current: ±3fA Typ. Room Temperature 4pA Max at 125°C Current Noise (100kHz): 7fA/√Hz Voltage Noise (1MHz): 4.0nV/√Hz Extremely Low CIN 0.45pF Rail-to-Rail Output AV ≥10 Slew Rate: +1500V/μs, –1000V/μs Supply Range: 3.1V to 5.25V Quiescent Current: 16.5mA Operating Temp Range: –40°C to 125°C Single in 8-Lead SO-8, 6-Lead TSOT-23 Packages Dual in 8-Lead MS8 ...
Read more

›